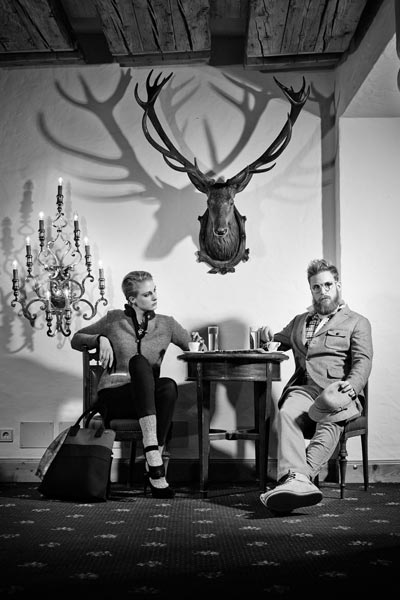 Photo provided by Luis Trenker (collection Autumn/Winter 2014) www.luistrenker.com; (C) David Sailer, IMAGES 2013
davidsailer.com.
Alpine autumn fashion
...seen in August 2014 at the campaign images by the South Tyolean label Luis Trenker which focuses on the heritage of the brand. The designs are inspired by old archive photos and the South Tyrolean clothing culture.
In 1996, the label 'Luis Trenker' was founded by Michi Klemera in Bozen, South Tyrol. It offers clothing collections for women, men and children, accessories, shoes as well as beauty products and food (marmelade). Luis Trenker is also active in interior design for hotels.
The name giver of the fashion label is alpinist Luis Trenker who became internationally known for his mountain films. The 1930s were difficult times for culture producers in South Tyrol/Austria where Luis Trenker pioneered the film business with realistic alpine movies; it was the time when Nazi propaganda minister Göbbels decided which cultural products had a chance of survival. Some say that Luis Trenker had the 'luck' that the esthetics of his homeland movies were after the Nazis' taste and that Trenker hadn't made them for the regime. This topic is in discussion until today. Perhaps that's the reason why in 2015 the Austrian co-production 'Luis Trenker - Der schmale Grat der Wahrheit' (means: The thin line of truth) with Tobias Moretti in the role of Luis Trenker and Brigitte Hobmeier as Leni Riefenstahl will be released. It's announced that the film will throw a light on the life of Luis Trenker as director and enthusiatic mountaineer as well as on his relation to the regime and photographer, filmmaker Leni Riefenstahl. Actor Tobias Moretti shared a TV-report about the film via Facebook. The report is in German; so in short words the first impression of the movie: it's still difficult to find out what's the truth, but it seems to be a fact that Luis Trenker was interested in film and not in politics. The film will make aware of the thin line between culture (especially entertainment) products and propaganda under totalitarian regimes.


more collections>