Men's style inspired by hotel bars
Hotels and hotel bars are the places where various fashion and life styles coincide. The legendary 'Blaue Bar' at Hotel Sacher which is located nearby the State Opera, popular museums and shopping boulevards is probably one of the best examples for a place where different people meet together in Vienna; the celebrity wall of the hotel shows guests from aristocracy to artist from film and music. Recently, a short film as part of a contest concerning the exploration of metropolitan Europe was published online; it tells the story of a woman and her granddaugther and follows them on the road from Hotel Sacher to an underground club in Vienna.
Inspired by Hotel Sacher's bohemian-elegant chic, Fashionoffice selected some items from current Xmas tip lists 'For Him'. fig. from left: 50.- Euros voucher for Hotel Sacher (bar, restaurant or spa); the sunglasses 'Adventurer Aviator' in brown by Silhouette; men's lace-up boots by Bunker (seen at Salamander); and the vinyl record 'Jazz Moods' (seen at Hotel Sacher's online shop). The image right shows the 'Blaue Bar' at Hotel Sacher.
Photos provided in late November 2014; (C) the mentioned brands.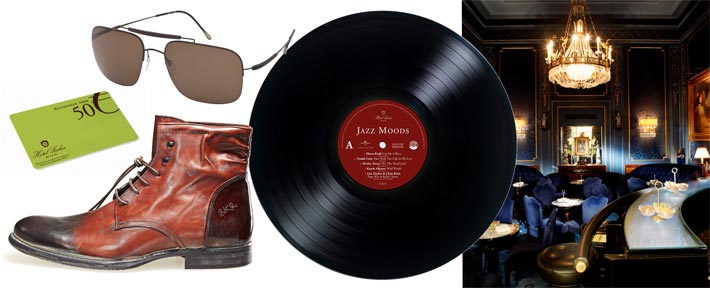 more collections>