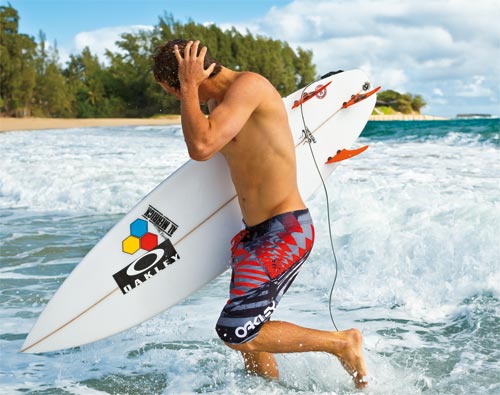 Boardshorts with psychedelic flight and sun views patterns
...seen at Oakley's collection Spring/Summer 2014. Fashionoffice collected two shorts. The one with the multi-layered psychedelic 'Propeller'-print in stone-grey and red looks good at the first sight; and even by looking twice, it's freedom promising print convinces. The color stripes and diamonds remind rotating blades of an airplane's propeller. The stripes are printed over a black/white photo print which depicts the sky or the surface of water and makes think of flight and freedom. The 'Propeller' shorts are on view 'in action' on the photo above and below, left in a closer view. On one leg, Oakley printed a red-eyed frog - an amphibian animal which lives in water and on land.
The second item from the collection here on this page is the 'Polarized' boardshort made from 100% recycled polyester. Even this pattern consists of more than one layer. The first layer is easy to recognize: it's the label's logo writing and red-shaded black sunglasses. The next layer could be described as running calibration stripes of a computer screen. The layer below the small stripes shows sunglasses in bigger size - such as zoomed in. They are printed in color which fades out into black and white at the top of the 'Polarized' boardshorts.