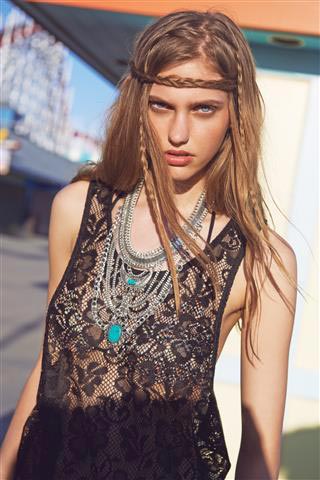 Fashion for garden parties, music festivals and summer beaches
...seen at Primark in May 2014. During the month, Primark sent several trend stylings such as flower print outfits on occasion of the inspiring theme 'Garden of Earthly Delights' of this year's Life Ball or the 'Festival'-fashion trends which make think of 60/70ies hippies (keyword: Woodstock - the beginning of mega-music open-air festivals) mixed with 90ies boho-grunge looks; the center pieces are made from denim dresses, shirts and shorts which are combined with lace tops and jewellery.
fig. right: Sleeveless lace top and jewellery (limited edition) from the 'Festival'-theme by Primark, May 2014. Photo: (C) @ELAINE LEE.
Fashionoffice received a lot of images from Primark for these trends; but preferred to search freely on the fashion label's media-website for items which fit water sport activities and beach walks. Find the results of the search below.
fig. below: The styling centers around the mirror print board shorts; their wide cut let them appear like a skirt; the shorts are available for 9.- Euros. Primark combined it with a bikini top. The dark matt round sunglasses from the styling are on closer view left beside the image. Fashionoffice selected some additional pieces for the board shorts - bikini outfit: the Aztec woven bumbag (arrived recently in stores on 21 May), the patent strap sandal, and the funny yellow eyes purse. Photos provided by Primark; (price for all pieces in sum around 33.- Euros; fast checked on 24 May 2014).