What means 'change' in fashion at the end of 2014?
Probably the answer to the question could be summarized with three words 'acting socially responsible'. In autumn 2014, sustainable fashion is once more a big theme as consumers are now (one month and a few days before Xmas) in the status that they are often irritated about how they can prevent environmental and social damages by buying goods like fashion. The discussion concerns not only qualities of textiles but also social conditions of workers at all stages of the production chain. In the meanwhile, the discussions reach so far that some groups vote for one single quality mark which covers the necessary information to make sure that workers weren't exploited and that the product isn't toxic. Sounds easy - but isn't so. The good news: most of the big players in the fashion business have developed already strategies to ensure environmental friendly and socially acceptable production processes. But uncertainty still exists in many cases.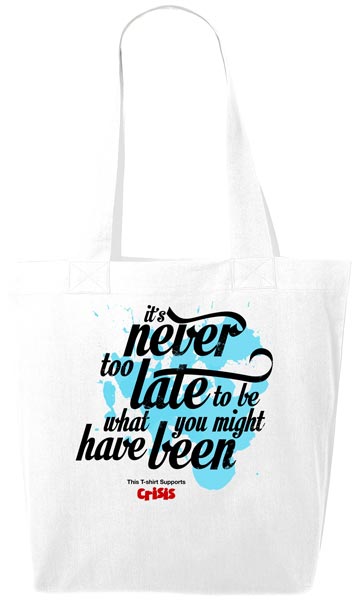 In the case of the Rapanui fashion pieces for the charity 'Crisis' (supports homeless people in United Kingdom), buyers can act in two aspects socially responsible: the 100% organic cotton charity products are made in a Fair Wear Foundation Audited factory, hand finished in the UK and the proceeds from sales will go towards the charity's work to end homelessness through housing, health, education and employment services. The collaboration was launched on 14 November 2014 on rapanuiclothing.com/crisis. The prints are inspired by the values of Crisis such as a tote with the print of a bird which flies out of a cage and breaks its chains (image below), the women's t-shirt with the campaign slogan 'No One Turned Away' (which makes aware that people often get no help from the government and have to sleep on the streets), and a shopping bag with the affirmative writing 'It's never too late to be what you might have been' which references the re-start agenda of the charity 'Crisis'.
Jon Sparkes, Chief Executive of Crisis, said: "Perhaps my favourite t-shirt of the lot quotes George Eliot, saying: 'It is never too late to be what you might have been.' That's what Crisis is all about. Sales of these t-shirts will fund arts classes, CV writing workshops, Shakespeare performances, maths classes and much more – everything that people need to rebuild their lives and leave homelessness behind for good."
Fashionoffice tried out the Rapanui online design tool; find the graffiti inspired design of a streetwear sweater with 'Crisis'-logo online.
Photos provided by Rapanui (t-shirt (C) Pixelate Imaging).