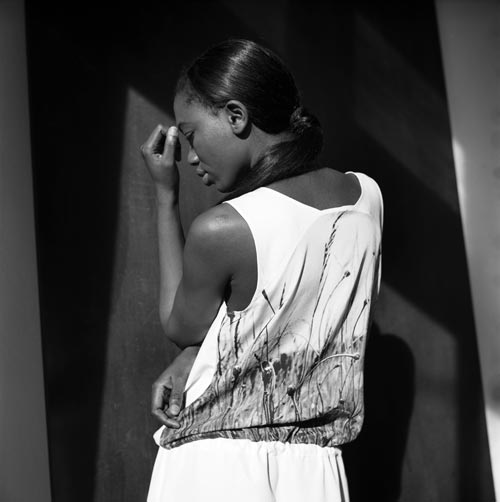 fig.: Sleeveless top with photo print by Severin Koller, Ferrari-Zöchling SS2014 collection. Photo by Severin Koller; hair/makeup Jenny Bladek.
New meeting place for fashion, photography, film, art, music in Vienna
The new creative space 'Schneiderhof' is the birth place of the photo printed clothing piece which is on view on this page. The item is from the current Spring/Summer 2014 collection by the Viennese label Ferrari-Zöchling. Design duo Monica Ferrari-Krieger and Romana Zöchling founded together with photographer Severin Koller Schneiderhof as place for workshops, events, exhibitions... last year. For the top (image right), Ferrari-Zöchling used one of Severin Koller's documentary photos. It shows a meadow in Austria. Koller shot the picture during a mandatory service training situation and focused on the contrast of peaceful grass flowers and a rifle.
On Facebook, Schneiderhof invites currently to sewing workshops (goal is to gain skills for Do-Fashion-Yourself and Re-Designing old clothes); and most recently, some images were posted from a sound, dance, performance art event. (Fast checked on 18 March 2014.) The embedded post below shows the printed fabric before it was manufactured to pieces like the one on view on the photo above.