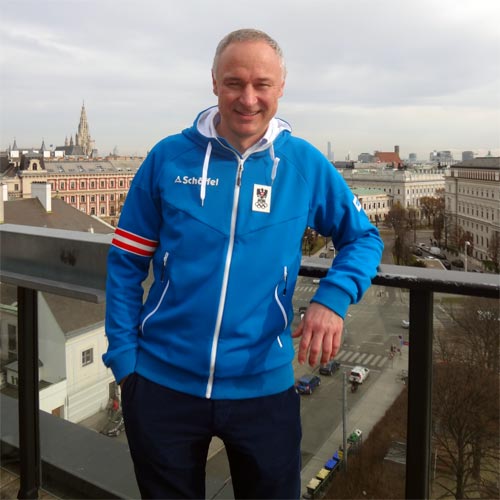 Vienna Insight
by Karin Sawetz, publisher Fashionoffice (18 February 2014)
From gold and silver medal parties in Sochi to the collection presentation in Vienna
Today I met Peter Schöffel, owner of the more than 200 years old company Schöffel from Bavaria, on occasion of the presentation of the new outdoor men's and women's SS2014 collection on the roof top at 25hours hotel in Vienna.
Schöffel is the official outfitter (race suits, active and leisure wear) of the Austrian winter sports team and provided also the clothing for the Olympic Games in Sochi. When I met Peter Schöffel, he arrived just from Sochi where the team outfitter attended some of Austria's most successful competitions and medal parties for ski athletes like Anna Fenninger (gold) or Matthias Mayer (gold). Together with silver medal winner Daniela Iraschko-Stolz (the ski jumper was the first openly gay athlete who won a medal in Sochi) in one plane, Schöffel travelled back to Austria. I asked him about the atmosphere in Sochi and about the mood of the athletes and got the impression as if the sports scene in Sochi has a good time. Well, the Austrians have already achieved some medals (international medals table). In a group with other journalists, Peter Schöffel spoke about one theme which interested most of us: the security measures and the impact on personal freedom. Peter Schöffel said that the security measures were not disturbing and that the people still felt safe.
fig. right, above: Peter Schöffel, owner of the German company Schöffel in the 7th generation, on 18 February 2014 on the roof top at 25hours hotel in Vienna. fig. below, left: View on the rack with outdoor jackets and shirts of the SS2014 men's collection; the Schöffel sports fashion pieces benefit from collaborations with outdoor specialists like the Austrian mountaineer Gerlinde Kaltenbrunner. fig. below, right: At the end of the press-date, journalists received a scarf and headband from the Sochi Olympic Games collection. So if you see anybody with these outfit pieces, don't presume immediately that the person is a professional Sochi-athlete!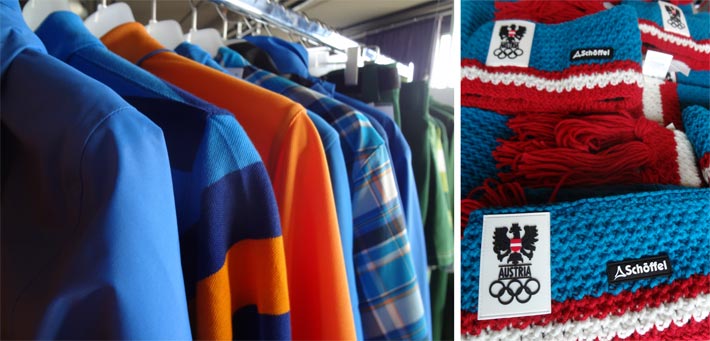 more collections>