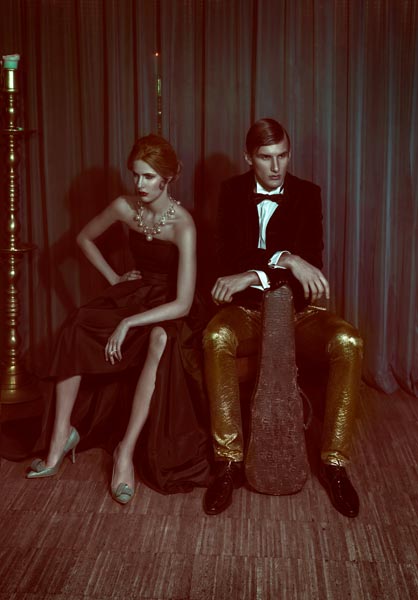 Tiberius' festive fashion photo series pays homage to Vienna ball culture
On 11 December 2014, Tiberius revealed the fashion photo series of the new 2015 collection of ball and festive women's and men's wear under the dramatic title 'Epilogue'. The collection is designed by Marcos Valenzuela.

The series' cinematic scenes are tinted with a sort of 'patina' filter which applies an appeal of yellowed after-colorized 30ies photography to the images of the ball/cocktail clothing that appears in this staging like a mix of 60ies and 80ies worn with the special casualness how people wear festive fashion nowadays. The scene on the photo on this page (right) evokes the idea of everyday work wear (keyword: casualness) of a singer and her violinist. The image mediates also the impression that the two are the ones who literally 'set the tone' - they are active players who wait for their appearance.

Tiberius designer Marcos Valenzuela pays with the 'Epilogue'-collection homage to the golden age and tradition of Vienna ball culture. The items of the collection can be customized at the Tiberius store.

fig.: Ball and festive men's and women's wear from the 'Epilogue'-collection 2015 designed by Marcos Valenzuela for Tiberius. Photos provided on 11 December 2014; photographer: Isabella Abel, , models: Polina/Stella Models & Moritz/Wiener Models, hair & makeup: Roberto Di Caro, jewelry: Nikolaus Sardamov, shoes: Mihaela Glavan. Photos were shot at the restaurant/bar Aux Gazelles in Vienna.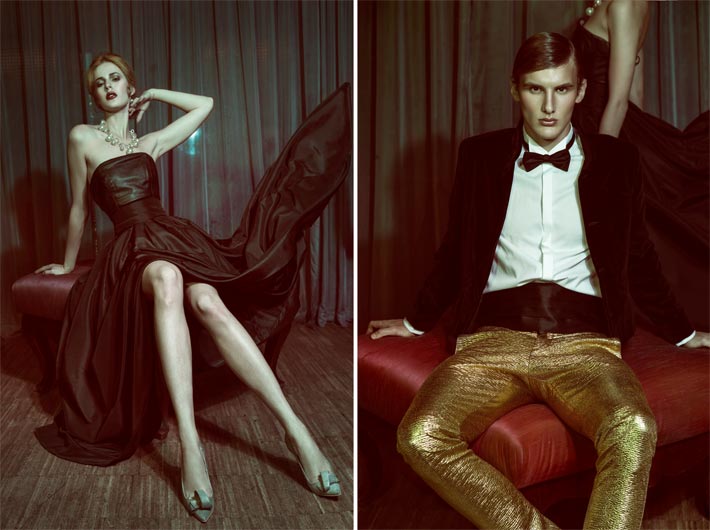 more collections>