One of the most successful fashion campaigns in the 1st week of September 2014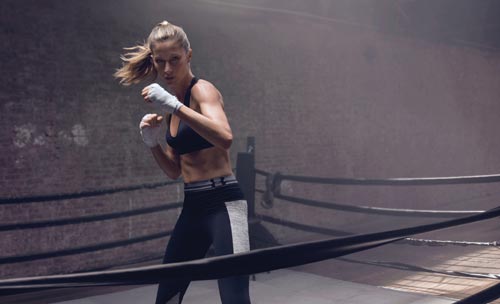 ...is 'I Will What I Want' with Gisele Bündchen for apparel and shoe label Under Armour.
Under the campaign motto 'I Will What I Want', the sporting goods producer Under Armour presented already women who fought successfully for the realization of their dreams like ballerina Misty Copeland (she didn't fit the ballet standards once) or Olympic gold alpine skier Lindsey Vonn. Now, Brazilian model Gisele Bündchen represents mental strength to withstand the projections and contradicting opinions of others. Before the video was made public, users were invited to post comments about Bündchen's appearance in the campaign. In the video (on view below), these opinions (from positive to negative) are projected onto the wall; in front, she boxes against the heavy bag.
On the same day the 1-minute short film was posted online, Adweek named it the 'Ad of the Day'. Fashion campaigns which throw light on women from a non-stereotypical perspective are obviously requested by users: the video about ballerina Misty Copeland was watched almost 6 million times (posted at the end of July) and three days after Gisele Bündchen's martial arts performance went viral on 4 September, it was viewed more than 900.000 times (checked on 7 September).
Video: Gisele Bündchen for Under Armour 'I Will What I Want'. On Under Armour's interactive video website iwillwhatiwant.com/gisele, users can navigate through four training situations such as at the heavy bag or rings and read the projected opinions closer.