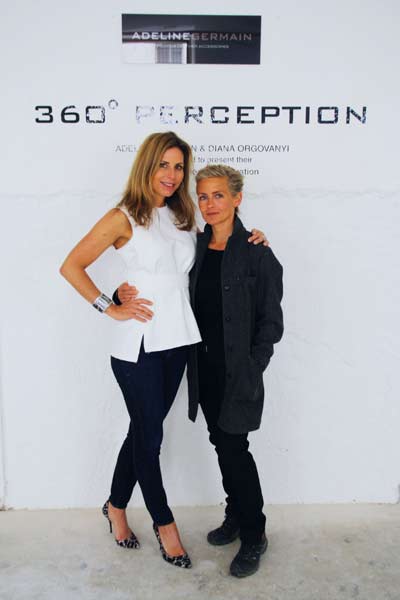 22 May 2015
Art-design collaboration of two cosmopolitans for a clutch in Vienna
Recently on 20 May 2015, the 'Chamäleon Diva Clutch' by designer and cosmopolitan Adeline Germain with art tuning by Diana Orgovanyi premiered at gallery Lisabird Contemporary in Vienna. Both women's style can be described as 'world citizen' who derive their inspirations from around the world. Adeline Germain - raised in Africa and the Caribbean (biography), is the designer behind the leather and fish skin bags which have the touch of glam party and cocktail.
For the limited edition art bag 'Chamäleon Diva Clutch', artist Diana Orgovanyi (she studied at the University of Applied Arts Vienna - biography) incorporated the symbol of the chameleon at the closure of the clutch. The animal with its special mobile eyes which can look unsynchronized back and forwards, and its ability to adjust the skin color stands for changeability. Chameleons can be found in various warm regions all over the world.
fig. above right: Adeline Germain and Diana Orgovanyi at the premiere of the collaborative 'Chamäleon Diva Clutch' at the Lisabird Contemporary gallery on 20 May 2015 in Vienna. Below: View at one of the clutches (available in limited edition in various colors). Photos (sent by): Spread. Find the eye catching campaign images of the bag on the website of Adeline Germain.