Preview: Austrian Fashion Association presentations in Paris, Vienna, Tokyo, 21 February 2015
Austrian fashion designers on tour: Paris, Vienna, Tokyo
Fashionoffice selected fashion, beauty and accessories pieces from collections of Austrian design labels which will show in March in Paris: a bag (which makes think of wickerwork of classical coffee house chairs) in relaxed elegant style by Bradaric Ohmae, WienerBlut's unisex fragrance 'Sale Marino' which pays homage to Viennese Belle Époque, the bracelet and sunglasses with art sculpture appeal by Polaire, and a pant suit with flower pattern by Austrian Fashion Award 2014 winner Rani Bageria.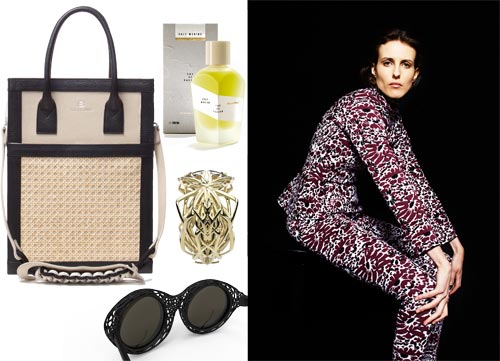 fig.: The elegant bag in relaxed style makes think of classical Viennese coffee house chairs' wickerwork! It's from the current collection by Bradaric Ohmae. The label was founded by Tanja Bradaric and Taro Ohmae in 2012; both studied at the University of Applied Arts in Vienna (classes of Raf Simons, Veronique Branquinho and Bernhard Willhelm). Photo: (C) Katharina Reckendorfer.
'Sale Marino' is one of six unisex fragrances of the 'Belle Époque Edition' by the Viennese perfumery house WienerBlut. The creations of the label (founded 2008) are inspired by 'Taschentuch Parfums' - perfumes which were applied to handkerchiefs at the fin-de-siècle (end of the 19th century). Photo: (C) Josef Gassebner / Rotfilter.
The black sunglasses and golden bracelet are designed by Polaire, a collective which works in various fields (arts, architecture, fashion...). Photos: (C) Polaire.
The pant suit with bordeaux and black flower print on white is from the FW2015/16 collection of knitwear and footwear by Rani Bageria. Rani Bageria received the Austrian Fashion Award 2014. Photo: (C) Maria Ziegelboeck.

Photos provided by Austrian Fashion Association.

In March 2015, Austrian fashion and accessories designers will be on tour. The first station of the AFA (Austrian Fashion Association) Showroom is Paris during the city's fashion week, and some days later, Austrian designers will participate in a fashion and architecture event in Tokyo. Between the dates, new products will be presented to press and buyers at the AFA Showroom in Vienna.
The Austrian Fashion Association was founded last year and is an initiative by the Arts Division and the Culture Division of the Federal Chancellery of Austria (BKA) and the Cultural Section of the City of Vienna. It's the first time, that the AFA Showroom is on view in Paris. The group of design labels changes from location to location.
AFA Showroom Paris
for press & buyers from 5 to 11 March at Robert Dodd Showroom; 2, rue Gabriel Vicaire/ 1st Floor, 75003 Paris.
Designers: Ajla Ayidan, Bradaric Ohmae, DMMJK, Femme Maison, Polaire, Rani Bageria, Sonja Bischur Jewellery, Ute Ploier, WienerBlut, Wubet.
AFA Showroom Vienna
for press & buyers from 18 to 20 March at AFA Offspace; Lindengasse 27/1, 1070 Vienna.
Ad'Dressing in Tokyo
from 19 to 22 March.
Designers: Bradaric Ohmae, DMMJK, Eva Blut, Gon, House of The Very Island's…, Meshit, Moto Djali, Natures Of Conflict, Sight Line, Werkprunk & special guest Edwina Hörl.