5 August 2015
Amazon Fashion Photography Studio London with built-in space for creative staff, library and cafeteria opened with a party with FW15 brand ambassador Suki Waterhouse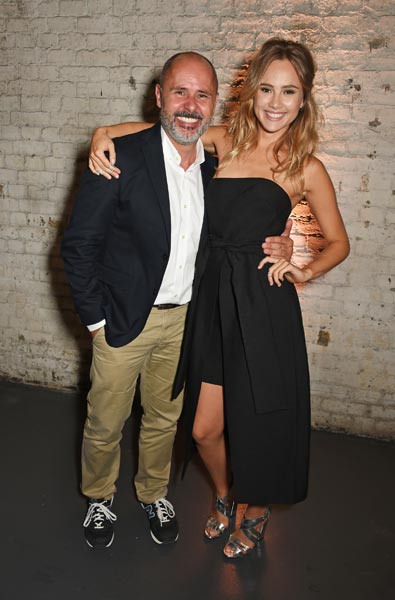 fig.: Sergio Bucher, Vice President of Amazon Fashion Europe, and Suki Waterhouse at the Amazon Fashion Photography Studio launch party on 23 July 2015 in London. Guest of honour was British model, actress Suki Waterhouse; she attended the party in a dress by design label C/MEO Collective (founded 2010) from the Amazon Fashion range on amazon.co.uk. The brand's face for AW15 Suki Waterhouse will appear in Amazon Fashion Europe's first advertising campaign. Photo by David M. Benett/Dave Benett/Getty Images for Amazon Fashion. (C) 2015 David M. Benett.
...at the new location on Geffrye Street in Shoreditch, East London where the retailer is shooting the pictures of the fashion pieces for the online catalogues across Europe.
On the same day, Amazon revealed the latest sales numbers and reported that more than 30 million fashion products were sold across Europe in the last quarter (1 April – 30 June). According to Sergio Bucher, Vice President of Amazon Fashion EU, the architecture of the multi-million pound fashion photography studio (with 22 individual photography bays - one on view at the photo below) allows the production of more than half a million images a year. At Amazon, fashion counts to the fastest growing businesses and last year in 2014, the retailer added more than 100 new fashion brands (Hugo Boss, Gucci watches, Tommy Hilfiger...) to the curated stores which run under categories like clothing, watches, shoes, bags, etc.
The new studio is more than a production location of photos; it's a sort of a huge fashion content production studio for Amazon's team of fashion creatives (editorial, video editing) with library and cafeteria. It's reported that 35 full-time employees work here with planned space for up to 75 persons depending on seasonal demand.
Amazon has with the studio now four destinations in London where around 2,000 employees work. In 2017, the company plans to open an additional corporate office in Shoreditch; in sum, the Amazon London offices will have then a capacity for over 5,000 employees.

fig. below: Views at the architecture of the new Amazon Fashion Photography Studio on Geffrye Street in Shoreditch, London. The building is leased from Transport for London and was transformed during six months into a fashion studio space. Amazon sent some facts to give an impression of the building's dimensions and the used equipment:
Around 120 catwalks could fit inside the 46,000 sq ft of the studio
132 editing computers help uploading images
Over 60 cameras will be used at peak times