Après Ski Style, 1 January 2015
Styling for sport and fun with colors and scent of spring
Fit and fresh into the new year! The following items are from the current and upcoming fashion and beauty collections by Nike, Esteé Lauder, Wolford, Moon Boot, L'Occitane, Golfino and Superimmun. They were selected with après ski and other sport related activities in mind.
Closer information about the pieces below.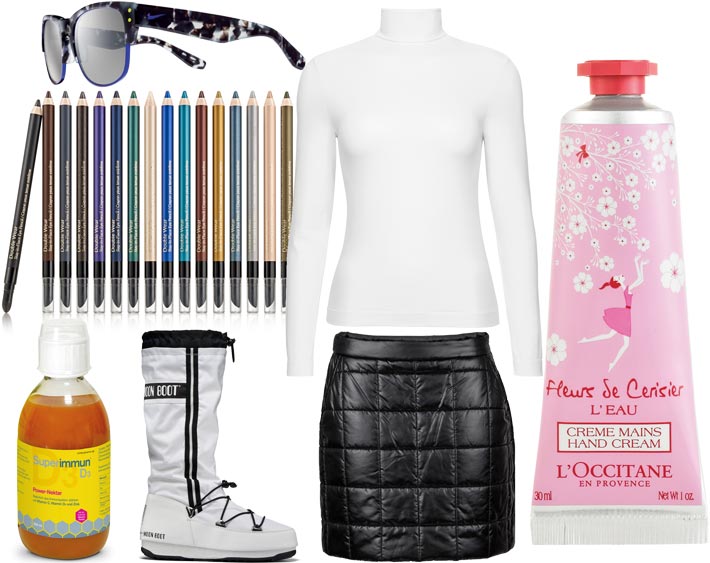 fig.: The 'Volition' sunglasses (grey tortoise and grape frame, grey lenses) are from the new Nike Vision spring 2015 collection which is inspired by skate and snow. The sunglasses are designed for both, leisure and sports activities.
The Double Wear Stay-in-Place Eye Pencils (with vitamin E und jojoba oil) by Estée Lauder will be available in stores from the end of January 2015 (in Austria). The idea behind the eye pencils was to provide a tool which simplifies the change of day make-up into evening looks such as applying with the silicone sponge a smokey effect to the eyes. The pencils' tones were taken from the current trend colors scheme.
The snow-white 'Portland' pullover by Wolford (Spring/Summer 2015), the lacquer-black padded skirt by Golfino (seen at McArthur Glen Designer Outlet Parndorf) and the white/black Moon Boot are in combination the perfect choice for many occasions; which makes them must-pack-in pieces for weekenders.
The hand cream 'L'Eau' from the new Fleurs de Cerisier line by L'Occitane is scented with cherry blossoms from the French mountain range Luberon nearby Avignon; announced to come into stores in a limited edition at the end of January, early February 2015 (Austria).
D3 Power-Nektar (with vitamin C from acerola cherries, manuka honey, propolis, vitamin D3, zinc) by the Austrian brand Superimmun was developed for strengthening the immune system. It's advised to consume it like medicine; available in pharmacies.
Photos: (C) The mentioned brands.


more collections>