29 July 2015
Burlington's campaign for special October Festival knee high socks turns the view on traditions 'upside down'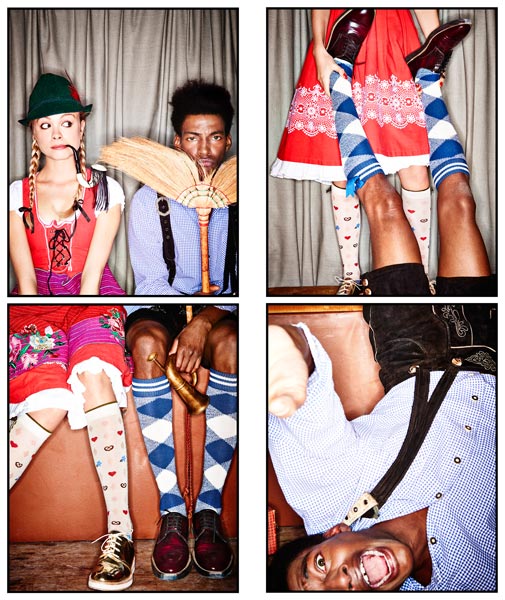 The new special edition of Burlington knee length socks is especially designed for the Bavarian beer festival (originates from Munich) which is celebrated each year as October Festival around the world. The three-pair edition has the brand's typical classical, elegant style which is developed from tradition and its modern interpretation.
The one with blue/white argyle pattern references the Bavarian flag as well as the British heritage of the brand. The other two knee highs are decorated with symbols of the festival and the region where it originates from (the European Alps): the pretzel is typical for the beer festival and the heart and gentian flower are known also as signs which appear at the tracht (tracht is name for traditional European Alps clothing).
With the humorous photos of the campaign, Burlington turns the view on traditions literally 'upside down': one image of the photo booth-like image series of a couple shows the woman with the male tobacco pipe and the man with a besom; another image pair could be described as action scene where the woman is towing away the man.
The blue/white argyle knee highs are originally for men, the others with flowers and hearts are designed for women. But it depends on the other outfit pieces to make the Burlington 'Wiesn Strümpfe 2015' look best in combination - despite gender. So the blue/white argyle socks could match great with a blue dirndl (traditional Alps dress) with red apron; and the green socks with hearts and flowers could look nice with antique leather trachten shorts and pink blouse.