26 July 2015
Diesel's new campaign is about the structure behind fashion ads and press releases
Leakers (such as Julian Assange) are not really required in the world of fashion journalism; and even investigative journalists are in this scene rather misplaced. It is what it is: fashion is a very superficial profession where the main interest concerns the best looks of the new season. But what stays the same over all genres of journalism (sports, politics, economics...) is the basic structure of ads, press releases and the relation of sender to mediator (the journalist) who packs a political party's, company's message into a story with or without additional information for the recipients of a distinctive medium.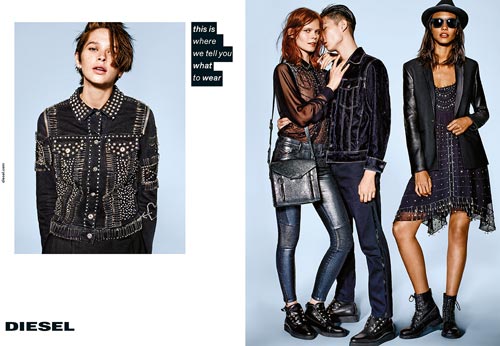 The new Diesel Fall/Winter 2015 campaign is about this structure behind the media business of ads and press releases which are displayed in various publications (adverts, banners, spots in print, online, TV) and arrive (as free media content) in email boxes of editors.
The Diesel press release is funny to read and it's a pity that Fashionoffice won't publish the whole text here - because it's something like a rule to copy not too many words of another text into an editorial article.
The press release on occasion of the Diesel Fall/Winter 2015 campaign looks like a draft with instructions how to prepare information for journalists with the aim to convince them to spread the idea of the writer's message through their media. The main focus of the persuasive arguments is that by reading the release and by acting in the desired way (means to spread the message) everything is easy, fine and everybody will be excited. They promise that the recipients will understand every word and that the text contains no statements which won't be believed by the reader.
At the end of the text about the campaign, the (in many cases for free media content obligatory) credits are provided: "We tell you Richard Burbridge shot the images, Nicola Formichetti styled the clothes and Spring Studios was the creative agency."
So far the press release. Two ads of the FW2015 campaign are on view on this page.
Fig. above: A group of people in 'Evening Rock' style; text at the slogan place: "this is where we tell you what to wear". Below: Diesel FW2015 'Male Sneaker' ad with writing "blah blah blah blah".