14 September 2015

Fashion produced from waste and interview with plastic recycler Ecoalf
Recycling is a nice idea - but the challenge is the organisation of the waste-collection behind and the recycling-technology for the preparation of the material for the production of new high-quality fabrics and clothing.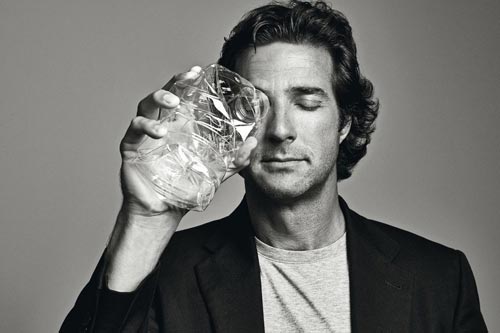 Fashionoffice received some insights into the work of Spanish entrepreneur Javier Goyeneche (portrait photo right) for his brand Ecoalf which was founded in 2009 and collaborates with ones like Will.i.am's company Ekocycle and Coca Cola; 'Ekocycle + Ecoalf' outdoor items are currently sold at Harrods. The list of collaborations is long and includes Apple, Barneys New York, Galeries Lafayette, Gwyneth Paltrow... The label's mission is the reduction of waste by using it as ressource for fabrics. Ecoalf collects plastic bottles, fishnets, coffee grounds, old tires, etc. (video) and produces from waste fashion such as on view on this page (sweatshirt and jacket), but also swimsuits, sneakers or accessories like backpacks.
Fashionoffice received the FW15 styles together with some answers to basic questions; find the interview after the lookbook images.
fig.: The image right above shows Javier Goyeneche, founder of the company 'Ecoalf' which is named after his son Alfredo. Images below, from left: yellow sweatshirt with black hood from recycled nylon; black bomber jacket from recycled plastic bottles. Both pieces are from the Fall/Winter 2015 collection by Ecoalf (lookbook).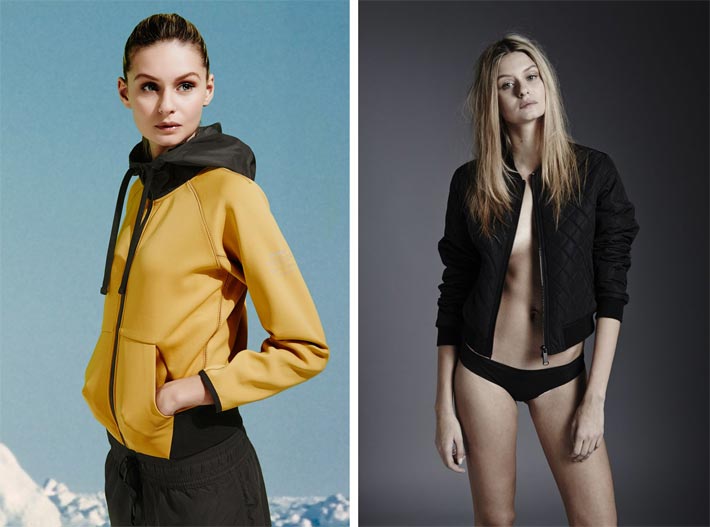 Interview with Javier Goyeneche, founder of ECOALF

Q: How did you get the idea of the brand?
It came to me after the birth of my son, Alfredo (the company is named after him) when I was reflecting upon the world we leave to the next generation and my frustration with the excessive use of the World's natural resources. The idea was to create a fashion brand that is truly sustainable. By integrating breakthrough technology in order to create clothing and accessories made entirely from recycled materials… without actually looking like it!

Q: When was ECOALF born?
The concept ECOALF was born in 2009 but the first 3 years were spent on sourcing and developing fabrics. The goal was to create the first generation of recycled products with the same quality, design and technical properties as the best non-recycled products to show that there is no need to use our world's natural resources in careless way. But the small amount of recycled fabrics that I found on the market at the time were not fashionable and of poor quality, so first I needed to partner up with manufacturers to develop suitable fabrics. Which is the reason ECOALF still designs and develops its own fabrics, every season.
The first line hit the stores in 2012 and the brand has had an early boost from limited-edition products for some high-profile partners and friends, like Apple, Barneys and Gwyneth Paltrow. Recently, the company has worked with Will.i.am to develop the first line of outdoor accessories for his new company, Ekocycle, which, in partnership with Coca-Cola, aims to give plastic bottles a second life. That collection is currently being sold at Harrods in London.

Q: What do you recycle?
Today the company has 11 active alliances around the world (Taiwan, Korea, Portugal, Mexico, Japan, Spain, etc.) that allow us to continually develop all necessary elements to manufacture with recycled materials. Discarded fishing nets, post-consumer plastic bottles, worn-out tires, post-industrial cotton and even used coffee grindings become outerwear, swimsuits, sneakers and accessories. ECOALF continually invests in sophisticated recycling processes to remain market leaders.
In the short time of ECOALF existence, 30 Million Plastic Bottles and 40 tons of Fishing nets were recycled to make its products!

Q: Any new projects coming up?
We are working on a major project for a while now, in fact our most important project so far…Until now ECOALF has been reducing waste by recycling materials from landfills but my personal challenge has always been to help cleaning up the ocean. The idea is to collect marine debris with the help of Fishermen and recycle them into consumer products. So the last year I spent investigating the feasibility of the project and finding all the right partners, such as Recycling facilities, Spinners, Weavers and most importantly Fishermen Associations. Because the Fishermen are pulling up a huge amount of plastic in their nets and have always been throwing it back in the sea, simply because that was how it was done during generations. Now instead of throwing it back they have a special container where they collect the debris and take it to the harbor at the end of the day from where it is shipped off to be classified, sorted, and recycled. We have started 3 months ago with a trial of 200 Spanish Fishermen boats and hopefully in one year the first products made of marine debris will be hitting the stores!
Q: How do you see the future?
I believe 2015 will be the year for many young companies trying to do things in a different way to arise. Young labels with fresh energy want to stand for something they really believe in. Fashion cannot just be about looking good. It also has to be about doing what is right and feeling good about it.


more collections>