20 November 2015

Vienna Insight by Fashionoffice's Karin Sawetz by walking through the city to a professional stylists' event
For sure, Vienna is the city which is mainly mentioned on Fashionoffice. It's the home base of the magazine (started with the domain Fashion.at) which reports since almost 20 years about fashion collections by creative people who come from or live in many cases in Vienna. Recently, Fashionoffice followed an invitation to the opening of a pop-up store in Vienna and found there mainly Austrian labels. The region where an editorial media product is based has its consequences on the content and affects future chances of market initiatives. In media politics, Austria is more nationally orientated. For example: The nation's most important web measurement method wanted YouTube to accept their performance counting tool which works via counter and questionnaire where users are asked if they have visited YouTube in the last days, weeks! Well, each country has its 'dark' sides.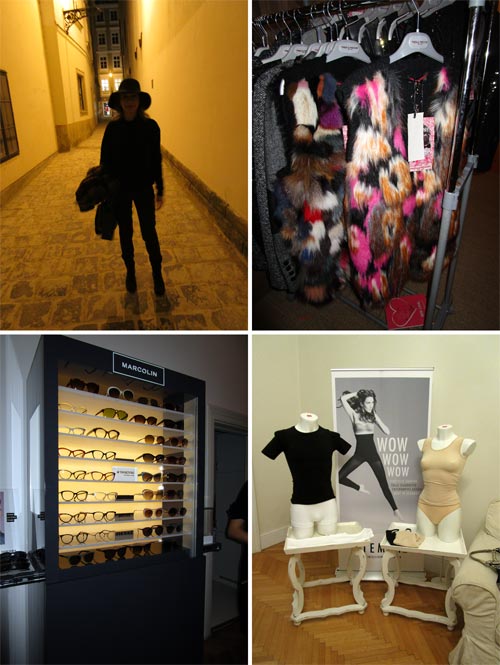 But there are also pleasant aspects such as walking through the city and visiting a press event for currently available products. It was rather an event for stylists than journalists. At the Frieda&Freddies racks, the stylists of editorial photo shootings have the chance to choose between real fur (real fox) and fake fur - the two jackets look similar, only that the real fur is still softer than the imitation. The Frieda&Freddies designers fulfill here very consequently the growing demands of consumers for animal free qualities.
At the Marcolin showcase, sunglasses by Diesel, Swarovski, Roberto Cavalli etc were on view; one of the trends are new interpretations of aviator frames - they can be found currently everywhere.
The last image shows the new high-tech shaping underwear by ITEM m6 for men and women. The compression specialist develops the products from the knowledge about health wear and received recently the Red Dot Design Award 2015 for the techniques behind its invisible tights. Yesterday, even the new collaborative design edition by Dorothee Schumacher was presented; highlight is the stay-up with open toe.

After the press event, I walked with a friend through the city. Vienna isn't an international media location like London, New York or Berlin; but who says that the hurdles of regional media politics can not be surmount in our digitalized world!


more collections>