3 April 2015

Fashionoffice selection:
cocktail style inspired by Life Ball 2015
This year, one style hits Vienna over spring: the Life Ball 2015 style which pays tribute to the Vienna Secession art movement. One of the most prominent artists of the movement was Gustav Klimt. Recently, Vogue reported that Jean Paul Gaultier will present a Gustav Klimt-inspired show at the Life Ball on 16 May.
fig.: The keyword of the Life Ball 2015 style is 'gold' (bag, shoes), the ornaments (shoes) reference the main title 'Ver Sacrum' and make think of ancient Rome, and as homage to the cosmopolitan thinking of the Vienna Secessionists, Fashionoffice mixed for the cocktail look fashion (dress) and beauty (eye shadows, nail lacquer) with links to Africa.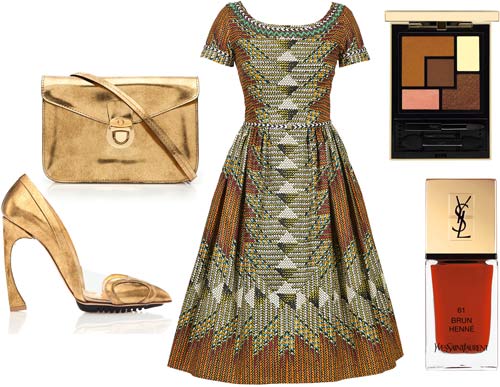 Bag and shoes by Musette. The current Spring/Summer collection is inspired by the art work of the Romanian sculptor Constantin Brancusi (1876-1957).
The 'Zulu' dress is from the SS2015 'Hot Mama Africa' collection by the Austrian label Lena Hoschek.
The beauty items - palette of eye shadows 'Mauresques' and 'La Lacque Couture' in 'Brun Henné', are from the new 'Les Sahariennes' beauty collection by Yves Saint Laurent. The colors of the eye shadows are inspired by the rising sun over the dunes of the desert in Morocco; the nail lacquer's warm red-brown color is a tribute to the temporary henna tattoos of Moroccan women.
Note: The outfit on this page is dedicated for a cocktail and not especially for the evening of the ball; it's inspired by the Style Bible of the AIDS/HIV charity Life Ball.


more collections>