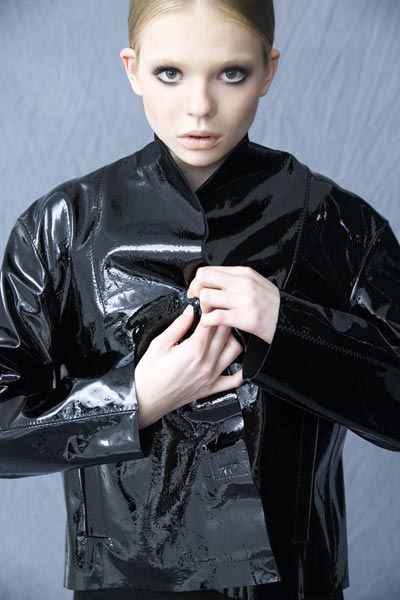 31 March 2015

Fashionoffice selection: lacquer leather for rainy days
The lacquer-leather jacket is from the Spring/Summer 2015 collection by Vienna-based label Schella Kann which counts to one of the longest active design brands in Austria. The style of Schella Kann can be described as minimalist, modern-classic women's wear. (Photo: (C) Inge Prader.)
The image was sent as tip inspired by this year's 'Life Ball Style Bible'. Hopefully, it will not rain on 16 May when people make party at Life Ball in front (around and on the special stage) and inside the city hall of Vienna! However, the jacket looks good with and without rain.
Fashionoffice collected some other pieces (for sun or rain or both) from current collections:
fig. below, from right:
The bag with rose-marsala-brown ostrich feathers by Joop and the black slippers in quilted leather-like material with white sole by Geox were seen at the store chain Salamander. (Photos: (C) Mischa Nawrata, Salamander Austria.)

Silhouette released last year on occasion of its 50th anniversary the iconic 1970s sunglasses 'Futura' in a limited edition. This year, the Austrian brand has two new 'Futura' models in its collection; the 'Futura 4069' with grey shades is one of them. (Photo: (C) Silhouette.)

There are only some weeks left until the official swimming pool season starts in early May. Enough time for the long-lasting removal of unwanted hair from legs, bikini zone etc. Therefore, the market offers many different devices; here on this page, the Philips Lumea Professional Plus (reduced hair grow after 4 to 5 treatments); seen at Douglas.

The Austrian Natural Mineral Water company Vöslauer releases each season special spring/summer highlights. The Vöslauer Balance Juicy collection consists of fruity tastes like blood orange or pink grapefruit (on the image below); new are golden delicious and pear (left bottle). (Photos: (C) Vöslauer.) Vöslauer is one of the official partners of Life Ball which is one of Europe's biggest and most glamorous charity events for the support of people with HIV/AIDS and the funding of initiatives for AIDS prevention.