31 March 2015

Fashionoffice selection - motto 'Sunny Ocean Breeze'
Currently, the weather is horrible here in Vienna. It's Easter week, children have holidays from school, everybody here has awaited sun and joyful days in and around the city; but instead: endless rain and hurricane-like wind. The next sunshine can be found in the more southern Europe, such as in Capri in Italy where - according to several weather forecasts, the sun will shine today and the whole week through. With such sunny thoughts and Capri in mind, Fashionoffice selected some items from current collections.
(Find closer information about the items below the image.)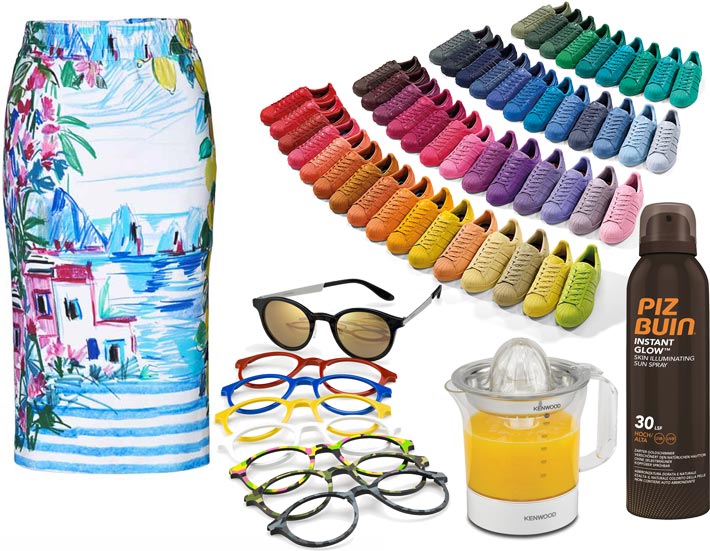 fig.: The skirt 'Leola' is from the Summer 2015 collection by Bogner Woman. Its print with maritime stripes, lemons and oleander blossoms is inspired by the piazza in Capri.
Since 27 March, the new collaborative 'Pharrell Williams x adidas Originals Superstar Supercolor' sneakers are available. The idea behind the collection of an extensive range of colors (50!) is that a true superstar is individual and wears what he or she likes - without following a fashion dogma. So it's up to the wearer which color fits best to the outfit and mood. Pharrell Williams says about the collection: "Supercolor is a celebration of equality through diversity. With 50 colours of the Superstar, everybody will be able to select his or her colour. It is more diverse than any pack ever before and therefore it is more individual than any pack ever before. With every shoe treated exactly the same, all colours are equal. No matter what colour you choose, you can be part of Supercolor. Choose your colour."
In April, the Carrera 5022/S sunglasses with changeable frames will come into stores. The basic model is black with shades such as on the image above. The shades can be added to other frames individually to express the own personality or simply after the styling.
Vitamins! Fashionoffice tip: fresh squeezed juices of oranges, citrons or grapefruits for boosting the mood. On the photo on view is Kenwood's Citrus Juicer JE290 (1 liter capacity).
For summer 2015, Piz Buin presents a new sun protection product with gold shimmer. The 'Instant Glow' skin illuminating sun protection protects with 15 or 30 SPF and can be sprayed over the head onto the body. Light reflecting pearls will appear like golden particles and add a sun kissed appeal to the skin.


more collections>