Metropolitan Style Spring 2015, 19 February 2015
Fashionoffice selection under the motto 'urban mobility'
In Vienna, the infrastructures of the public transport like the underground train (U-Bahn) and roads for cyclists are so well planned that some locations can be reached with the bike or 'per pedes' (by feet) faster and more easily than with other vehicles such as the motorbike. This year, the city pays special attention to pedestrians - which has two advantages for Vienna: it preserves the city's environment (keyword pollution) and the activity (walking) keeps the citizens healthy. This urban mobility trend wasn't developed in Vienna or by any other city of this world. It's a global trend that awoke simultaneously around the world and is motivated by the idea to conserve resources in a smart way such as in this case by replacing the passive activity of traveling short distances on train, bus or car, by the active training of the body through walking one station or three streets.
Find on this page some pieces which were selected by Fashionoffice under the motto 'urban mobility'; closer descriptions of the fashion, cuisine and beauty items by Alpha Industries, Lancaster, WMF, adidas by Stella McCartney and Kure Bazaar are published below the images: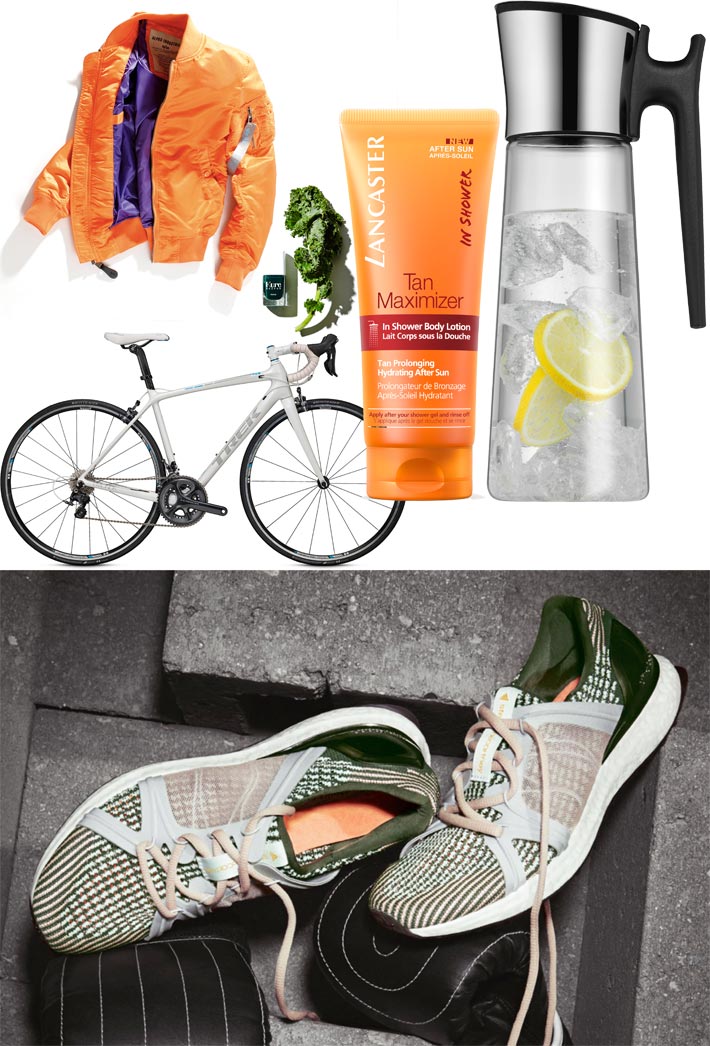 In the middle of the image, the vegan eco natural (85% potatoes, cotton...) nail lacquer 'Kure Kale' (name of the special cabbage which is currently one of the trendy detox-veggie-food choices) by Kure Bazaar. It's not designed for nail biters - tastes like every other nail lacquer!
The new 'MA-1 VF Light Weight' Alpha Industries jacket for women in orange with lilac lining (in stores now) suits trousers and skirts as well.
The upcoming in-shower body lotion from the tanning series by Lancaster doesn't protect the skin from sunlight during the walks or rides but it's a new product to care for the skin after the sun; available from early March 2015. Fashionoffice advice for urban tours: apply sun protection on face, decollete and backs of the hands directly after the shower and use makeup powder with SPF.
Probably, it isn't always possible to drink during the tours. Tip: prepare already in the morning a carafe with pure water and refine it with the ingredients you like. WMF's new carafe 'Basic' has an intelligent (WMF patented) closure which opens automatically when needed and an integrated filter which prevents that water refinements like citron, ginger or mint leaves are poured out of the vessel. The 'Basic' carafe fits into the drinks section of standard refrigerators; it's designed by the Berliner duo Köhler & Wilms (Claudia Köhler and Irmy Wilms).

The light weight road bike 'Trek Emonda SL 6 Women' (around 7 kilos) was presented recently by the store Trek Bicycle Vienna for city cyclists.

Stella McCartney's 'Ultra Boost Knit' running shoes are from the current adidas by Stella McCartney collection (from yoga, run to swim). The toes, heels of the mint/soft-powder colored sneakers glow in the dark; in stores and online now.
Photos: (C) The mentioned brands.


more collections>