30 April 2015
Fashionoffice selection: Water Hunter
Water is the source for life. Initiatives such as The Waterfall Project by the US music group My Morning Jacket make aware of the main artery of earth. The Waterfall Project combines the environmental topic water with social equality, justice and health. Probably, this combination of topics is signature for the state of mind of our times and is one of the 2010ies zeitgeist movements which will be marked prominently in history e-books of the future. The world today is more diverse than 20 years before and at the same time more related - at least, this is caused by greater tolerance and the experience that country borders have in connection with social or climate change especially the function of a base frame for the negotiation of transnational strategies for the world society in foresight of the next generations.
Already today, we meet all over the world very similar rules; like for bathing at the beach. Absolut No-Gos are leaving waste such as plastic bottles at the beaches, harming coral reefs or fishing without permission (keyword: protection of the eco system).
Fashionoffice selected some pieces for the Spring/Summer 2015 bathing style with fish grill utensil. Tip: bring the fish from the market next to the beach.
fig.: Bikini 'Lovelies' in coral and green by New Yorker; fish grill grid seen at depot-online.com; chain with shell pendant from the Sterling Silver collection by Thomas Sabo; the Gosh nail lacquers in the colors 'Sunkissed' and 'Apple Bloom' are exclusively available at Bipa.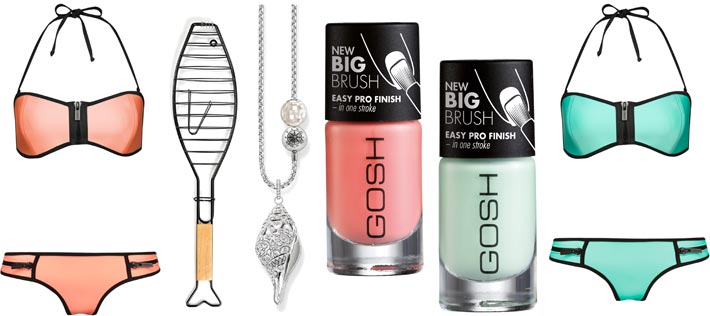 more collections>