10 April 2015
Fashionoffice selection for the weekend break
Beach, pool, city walks with exhibition explorations, and party are the ingredients for weekend breaks. In and not far from Vienna, several destinations and special events such as Milan Design Week (14 - 19 April), Venice Biennale (9 May until 22 November) or Life Ball (16 May in Vienna) can be used to combine recreation, culture, art and fun.
Fashionoffice selected some pieces from current fashion and beauty collections for the weekend holiday style 2015: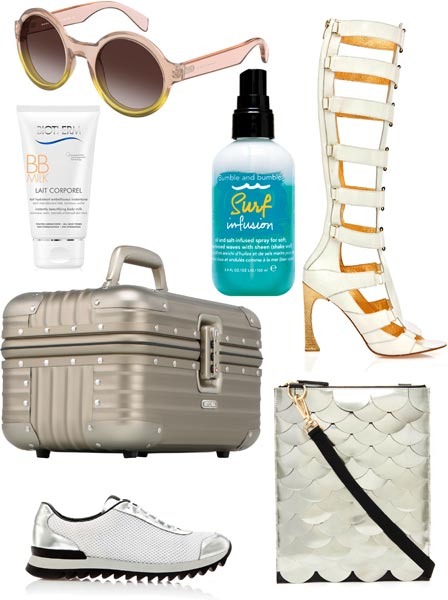 The sunglasses 'MMJ 475s' by Marc by Marc Jacobs are inspired by the feeling of lightness of the 70ies.
The Bumble and Bumble hair spray 'Surf Infusion' is a volumizer with care ingredients (a mixture of sea salts and oils). It can be sprayed on damp or dry hair; available at Douglas from May.
Lait Corporel BB Milk for the body by Biotherm hydrates and its micro pigments make the skin appear more even. The pigments take on the natural tone of the skin.
Topas Titanium Beauty Case by Rimowa for makeup, perfume, face and body care.

The shoes and bag are from the current Spring/Summer 2015 collection by Musette. The sneakers 'Kali' are a good choice for city walks and the exploration of exhibitions like at Milan Design Week or Venice Biennale. The boots are a perfect choice for parties such as at the Life Ball in Vienna.


more collections>