23 November 2015

Fashionoffice selection: men's travel style FW15/16
The latest article was about women's travel style with focus on the ball season in Vienna. In this article, Fashionoffice shows some pieces from current collections for men's business travel outfits.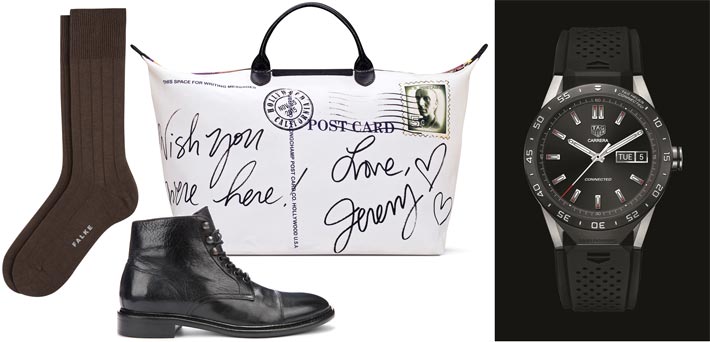 The socks on this page are from the Falke 'Airport' series. The series celebrates its 25th anniversary and counts in Europe to one of the most favored business socks. One of the reasons is probably the timeless design, the high quality of the material and the wide range of colors which makes it easy to find the right one for business suits. In 2014, the Airport socks and knee highs were Falke's best selling men's legwear with more than 1 million pairs sold worldwide.
The Geox boot 'Guildford' in black is an example from the 'Urban Looks' for men by the Italian shoe and apparel label. The vintage design of the boots fits to business suits as well as to afterwork-clubbings.
The 'Le Pliage' bag pays homage to the 10th year of the collaboration of Jeremy Scott for Longchamp. The anniversary party was celebreted earlier this month in Beverly Hills, CA. The travel bag collection is entitled 'Greetings from Hollywood'; on view on this page is a white bag with black hand writing 'Wish You Were Here! Love, Jeremy'' on a classical post card. The 'Le Pliage' bags are available since early November on Longchamp.com.
Even earlier this month, another product by prominent collaborators was unveiled. Intel Corporation, TAG Heuer and Google released the classical chronograph which is empowered with additional features made possible through Intel Atom processor Z34XX and Android Wear operating system (around 4.000 apps for calendar, Google maps, travel apps such as with real-time flight information etc). The information appears at the LCD display which changes its classical TAG Heuer watch design into a computer screen (video). The microphone of the 'TAG Heuer Connected' allows voice control.