18 October 2015

Fashionoffice selection: après ski fashion and beauty

Recently, Fashionoffice selected some pieces (clothing, skin protection) for the new snowsports season 2015/16. This time, the activities after sports - the après ski events (Austrian top locations) - are in the main focus. The après ski outfit consists in the most cases of sports items with glam upgrade; Fashionoffice applied to luxury ski pants and pullover in retro-look some particles of gold, shimmering glow and the fragrance of a mysterious night.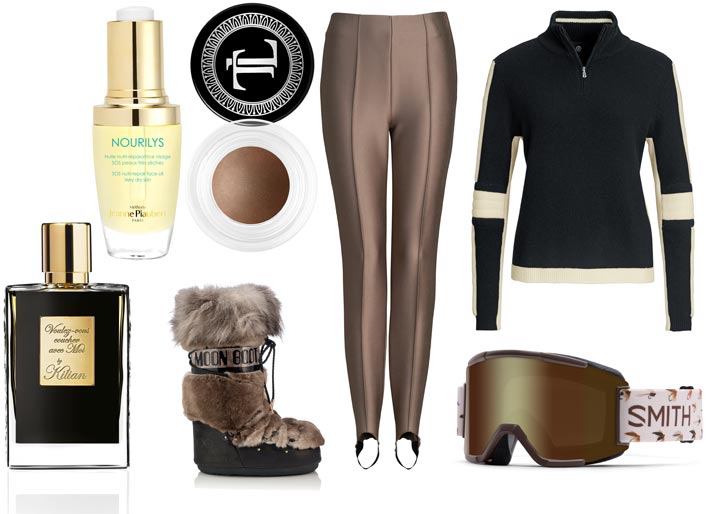 'Voulez-Vous Coucher Avec Moi' is the latest fragrance by French perfume maker Kilian Hennessy. The label 'Kilian' is known for extraordinary creations. This composition celebrates the mysterious night and the magic of love. The olfactory pyramid combines impressions of a blooming morning and the sensual spicy notes of the sunset. The perfume was released this month.
The Nourilys SOS nutri-repair face oil by Jeanne Piaubert is a great tip for dry skin on winter days. The new formula contains ingredients which make the skin more elastic and applies a healthy strength and natural glow. It can be used alone, or under the day or night cream. Additionally, the price-performance ratio is nice: only few drops are enough. The oil of the 30 ml bottle lasts on a daily basis over several months. (Fashionoffice has tested it over more than one month on various skin types.)
The eye shadow 'Ombre Divine' in the warm gold color 'Or Chaud' is from the glamorous makeup collection 'Chic & Gold' by the French label T.LeClerc. The collection is especially dedicated to the festive season. Tip by T. LeClerc Make-up Artist Eduardo: apply 'Ombre Divine' not only to the eyes; use it on the cheekbones where it sets a glow on slightly sun-bronzed skin. The collection 'Chic & Gold' (limited edition) is available at selected beauty stores from the end of October.
The boots 'Icon Lapin' by Moon Boot in Jimmy Choo design are made of leather, rabbit and fox fur. The collection is designed by Jimmy Choo Creative Director Sandra Choi who used various materials, even for fur-free models. The collection was released as limited edition and is available in selected stores, on jimmychoo.com and moonboot.com from this month. (Photo: (C) Richard Valencia Photography.)
The stirrup ski pants 'Elaine' and the black/off white pullover 'Sylvie' with stand-up collar and zip from the Bogner Sport Winter 2015 collection are inspired by the slope styles of the 60ies.
The Smith 'Squad' goggles with mirroring gold lens are from the brand's current range.


more collections>