21 October 2015

Fashionoffice selection: snow walking outfit and beauty for an affordable price
After the more exclusive après ski selection, Fashionoffice collected some pieces around the theme snow walking under the motto 'very nice price'. Snowsports activities can be expensive; but mustn't be. Several organizers offer already price-attractive holiday packages and fashion retailers launch affordable (often limited) collections especially for the mountains, snow and sports. Snow walking is probably interesting for the ones who are trained in running and plan to continue the activity on snow and to enjoy at the same time the nature of the mountains.
The black softshell jacket, jet ski pants, snow shoes and colorful goggles (changeable lenses) are from the upcoming Tchibo 'Ski Fashion' collection which is available from 17 November. The snow shoes can be worn with common winter shoes or (better) mountain footwear; they will cost around 55 Euros. The goggles with two changeable lenses (yellow for snow and fog, the mirrored for sun) protect 100% from UV-rays and will be available for ca 35 Euros. The softshell jacket is windproof, water-repellent, respirant and has a warming fake-fur lining (ca 60 Euros). The price for the softshell ski pants is around 80 Euros.

Even effective beauty products can be found for a very nice price such as recently seen at the new bebe MORE line for the ones who have already celebrated their 25th birthday. The peeling is for all skin types (150 ml ca. 5,50 Euros) and the rich moisturizer for dry skin with cactus milk and shea butter is available for ca 6,50 Euros (50 ml); bebe MORE is in stores since September.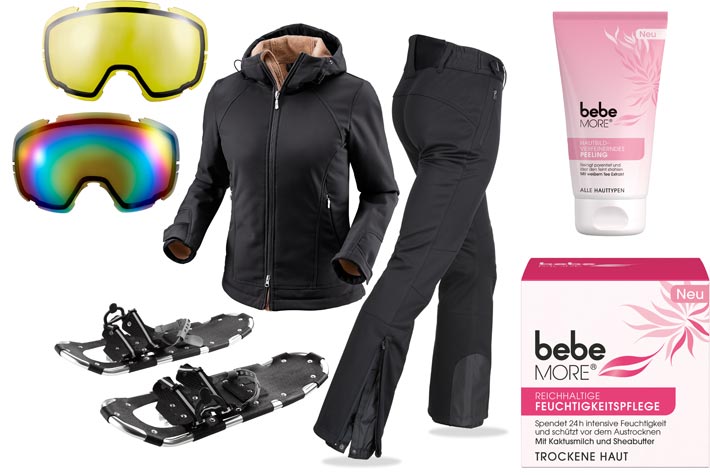 more collections>