15 October 2015

Fashionoffice selection 'snowsports': from artful fashion to beauty care with sun and ice protection
In Austria, the new snowsports season is theme again. Always in discussion are the ski lift prices which have evoked last year the wish that ski lift owners surprise with attractive and for both sides - owners and families, affordable bundles for children and youth; this has happened already in several regions such as at the family ski region Ostalpen nearby Vienna in Lower Austria. For sure, possible new ski stars must be supported! Currently, the whole country seems to be in the starting blocks for the upcoming winter season. Today, the classical Kaprun/Kitzsteinhorn region (tickets for children almost the half price of adults) opened for snowsport fans; according to the calendar, the next opening happens on 24 October at the chic ski resort in Kitzbühel which is also known for its après ski. Fashionoffice collected some fashion and beauty pieces for the new season 2015/16 with freeskiing and mountain experience in mind.
(Closer description of the items below.)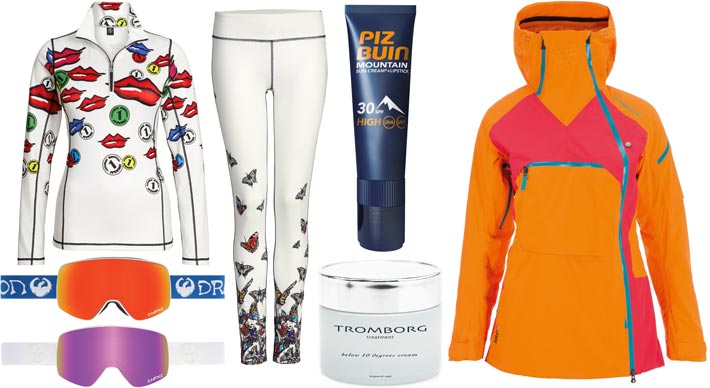 fig.: The first layer items - long-sleeve underwear top with red lips print and pants with butterflies, are from the special collection Ameli Neureuther for Fire + Ice by Bogner, Winter 2015. Ameli Neureuther created her illustrations on the iPhone and has already worked for brands like Marc Jacobs. She is the sister of Alpine ski racer Felix Neureuther and incorporates into this collection alongside to artistic motifs even zodiac signs of athletes.
Sports in snow under the sun high on the mountain is a risky entertainment without skin protection. Piz Buin is one of the specialists in this field. The label offers currently the special 'Mountain' line with items like the practical sun protection cream (SPF 15, 30 or 50+) with lip stick in one.
Beauty insiders know the tricks during winter and would never use summer creams with ingredients which could freeze the skin on cold days. But tips and news are never wrong: the information about the 'Below 10 Degrees Cream' by Tromborg is the latest concerning winter skin care which arrived at Fashionoffice. Fashionoffice's advice: apply first the special winter face cream and then the sun protection.
The 2-Layer Vertical jacket from the 'Heli Vertical' collection by Peak Performance is designed especially for freeskiers. The 2 layer fabric (Gore Tex C-knit) makes the jacket water and wind resistant.
Never forget your goggles! Eyes should be protected from sun reflections and snowflakes. On the image above two models from the new NFX2 collection by Dragon Alliance; the 'Danny Davis' red ionized shades, and an NFX2 model in white with lilac lenses. The lenses of the NFX2 can be changed; more about the SwiftLock technology on https://vimeo.com/132362601. Dragon Alliance sent two additional video links: one which shows NFX2 collection pieces during skiing and one short snowboarding film.


more collections>