19 August 2015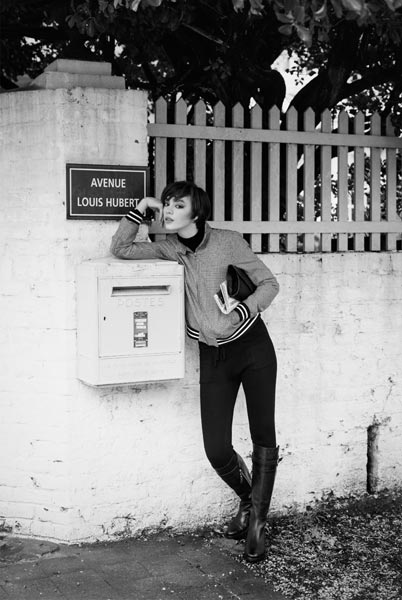 Three shoe-focused stylings seen at Fred de la Bretonière's lookbook: jockey knee-high boots, counter-revolutionary footwear, and androgynous loafers

The autumn/winter collection items by Netherlands headquartered eponymous label of Dutch designer Fred de la Bretonière (founded 1970) are dropping currently slowly, piece after piece onto the brand's website. Fashionoffice previewed the digital lookbook Fall/Winter 2015/16.

The style of Fred de la Bretonière's shoe collection could be described as Northern European 'cool' design mixed with Southern French 'chic'. The 'cool chic' is also the red thread through the lookbook which presents the new models at urban places with country flair such as the knee-high boots.

fig. right: The knee-high boots are combined with trousers and blouson-jacket which make think of the racing outfit of a jockey. The way she is leaning at the mailbox gives the impression as if she is just coming from or going to the horse riding.

fig. below: The image left, shows a woman in punk-rock/counter-revolutionary ankle boots combined elegantly with longer dress and narrow trousers; and at the picture right, a wind and weather trench coat is worn with wide trousers and androgynous loafers - well, one of the ideas behind the collection of male conceived ladies' shoes is "je ne sais quoi...".

Photos: (C) Fred de la Bretonière.