22 March 2015

Trend at Baselworld watch fair: clocks merge with wearable computer devices
Tag Heuer does it, jewellery brand Bulgari has one and iconic fashion brand Gucci announced on occasion of Baselworld (watch trade fair, 19 - 26 March) the release of a new timepiece in collaboration with musician will.i.am's company i.am+ which is specialized in fashion and technology.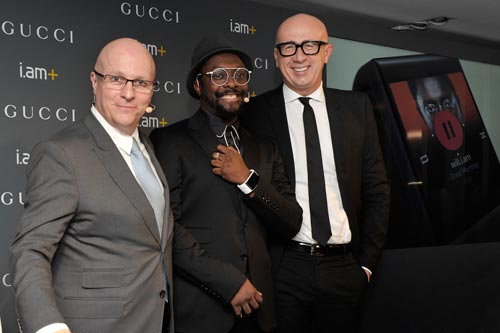 fig.: Gucci Timepieces President and CEO Stephane Linder, i.am+ Founder and CEO will.i.am and Gucci President and CEO Marco Bizzarri at the Gucci Timepieces press conference on 19 March 2015 in Basel, Switzerland. On occasion of the international watch fair Baselworld, Gucci and will.i.am announced a special partnership for the development of an innovative wearable device concept. Photo by The Image Gate/The Image Gate. (C) 2015 The Image Gate.
After Apple presented its watch, the desires of customers changed finally. Several years ago, it was predictable that the role of the watch will change with the new behaviour of people to carry their smartphone with integrated time display. But visionary future forecasts arrived in reality only after computer hardware, software and mobile data transmissions became smaller, smarter, faster and more reliable. Now, all three preconditions (hard-, software, data transmissions) have reached a quality which allows the step into the evolution of the watch as carrier of a computer device; in most cases, it's an allrounder for receiving music, phone calls, etc.
Apple will start to sell the new watch on 24 April. Tag Heuer announced the collaborative watch with Google (Android) software and Intel hardware for the end of 2015. (More about the Tag Heuer, Google, Intel watch at the Bloomberg article with video where LVMH watches chief Jean-Claude Biver speaks about the collaboration.) Bulgari's 'Diagono Magnesium' concept watch in collaboration with Swiss company WISeKey was developed from the idea of the 'Internet of Things' and functions as digital key for the car, apartment or payments; currently, there is no certain release known. Even without fixed release date, the collaborative Gucci i.am+ watch which is a stand alone device for phone calls, fitness, music etc and works without additional smartphone (preview below).