26 November 2015

H&M collaborates for upcoming Conscious Exclusive collection with Musée des Arts Décoratifs, Paris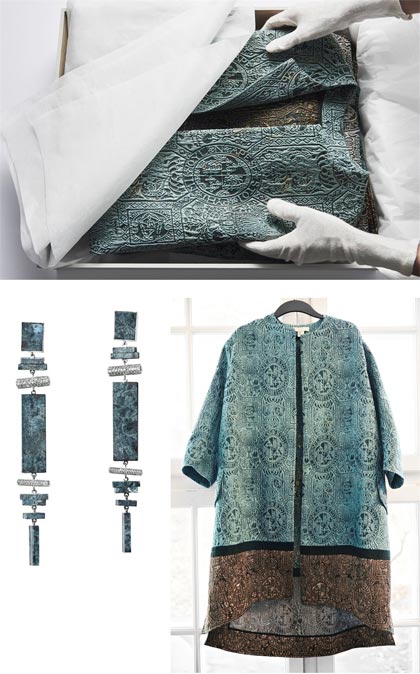 The new high-quality sustainable H&M collection 'Conscious Exclusive' will be released in time with the opening (7 April 2016) of the exhibition 'Fashion forward - Three centuries of fashion' of collaboration partner Musée des Arts Décoratifs at Palais du Louvre in Paris where additionally to the museum's artifacts, objects of H&M's archive such as from the first ever designer collaboration (Karl Lagerfeld, 2004) will be on show. It's announced that even one piece from the upcoming Conscious Exclusive collection 2016 will be presented. The new range is inspired by the archives of the museum - H&M mentioned especially 19th century painter Gustave Moreau, and developed from new sustainable materials such as jewellery from recycled glass.
The items on view on this page - the earrings in combination with the artful coat, remind fashion of the so called 'Reform Dress'-period of the early 20th century. Reform dresses were developed by artists of art movements known under the names Jugendstil (in German language countries), Art Nouveau (French) or Arts and Crafts (in England) with focus on physical health and freedom of movement. It was also the time when new industrial production processes for 'designed objects' like jewellery, clothing or textiles were invented.
The coat fits to an evening cocktail body-suit or dress as well as to daywear like jeans. The upper material of the coat appears like dyed with a touch of 'worn-out denim' blue which visualizes one important, eco-friendly quality of the collection.
"With this collection we brought the idea of sustainability to new levels. Working with new innovative materials such as beads and rhinestones made from recycled glass and Denimite, a material made from recycled worn-out denim." says Ann-Sofie Johansson, Creative Advisor at H&M.

Related article to the theme art movements, Jugendstil, Art Nouveau, Arts & Crafts: Social changes as motor for the creation of art and design at the turn of the 19/20th century and similar movements today