Hunkemöller #100daysHKMX campaign, 3 February 2015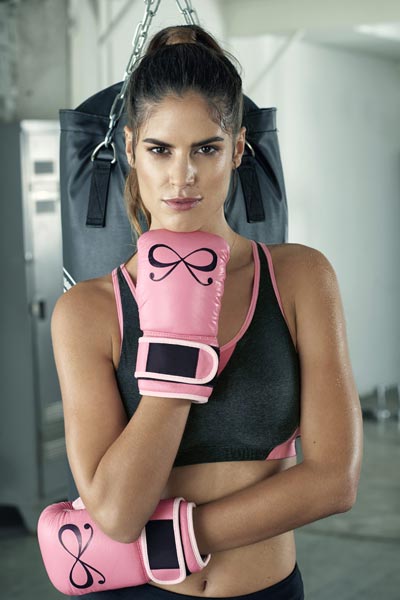 What happens at Hunkemöller's campaign for 100 days sports?
Hunkemöller started the #100daysHKMX social media campaign on occasion of the label's new HKMX sports collection in mid-January. Two campaign photos of the sports collection are on view on this page; they are selected from a wide range of impressions which were shot in a fitness studio and show yoga exercises, muscle training with weights, scenes at the rings (image below) or punchbag. The boxing gloves (picture right) in pink with Hunkemöller's logo bow are the prize for selected winners of the social media campaign which runs via Instagram by posting a workout photo tagged with @100daysHKMX. Fashionoffice searched with hashtag #100daysHKMX and found several postings like a picture of yoga in the snow at the Kitzbühler Horn in Austria on Facebook or a running video on Instagram.
The initiative is also accompanied by website publishers who follow the 100 days challenge such as blogger Jasmin from Berlin (provides tips in English language) or Andy of StyleScrapbook who produced a photo series of her in Hunkemöller items during the workout at the beach in Los Angeles.
Hunkemöller announced that Instagram posters (Instagram @100daysHKMX) can win not only the pink boxing gloves but also a full HKMX sports set.