Vienna Insight by Karin Sawetz, publisher Fashionoffice
28 May 2015
Lingerie trends by Hunkemöller design director ZoŽ Price-Smith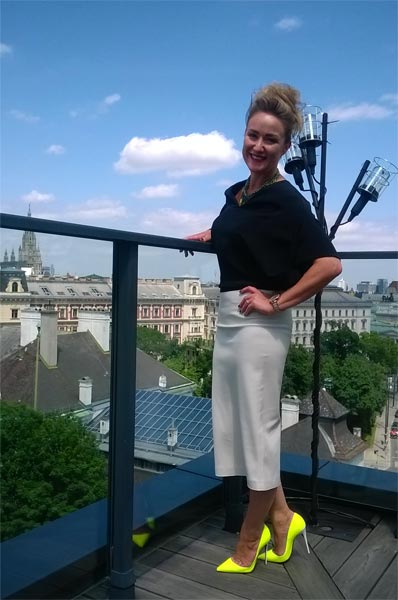 I met ZoŽ Price-Smith, design director of Hunkemöller at the roof top of the 25hours Hotel in Vienna (snapshot on this page, right). Recently in early April, the first Austrian flagship store of the originally Dutch lingerie and fashion brand was opened in Vienna. Today, the Hunkemöller team invited to a get-together for the presentation of the new and upcoming collections.
I used the time before the show for an interview with design director Zoë Price-Smith about trends in lingerie.
One trend theme which has appeared in the last months again and again is the soft bra and I was interested if it is important at the new Hunkemöller collections as well. For Hunkemöller's design director, the soft or unpadded bra is definitely an important trend but not the only one; the unpadded bras make around 20% of the current Hunkemöller range. The wireless version integrated into a short bustier-like bra - the Bralette longline, high-waisted briefs, bodies and the modern interpretation of the French boudoir lingerie (realized at the Private Collection) belong to the trend tailoring technologies, patterns and styles by the Hunkemöller design team for women's underwear in summer and next autumn/winter.
Lingerie wasn't the only theme today. Zoë Price-Smith introduced also into the new Sylvie Swimwear collection with pieces such as the Afro Jewel bikini with short pleated cotton skirt (campaign photo below) which was presented additionally with a video starring TV-personality, face of Hunkemöller and the collection's name giver Sylvie Meis.