6 November 2015

Lena Hoschek 10th anniversary party with show of the new lingerie collection for Palmers
On 5 November 2005 just after one year apprenticeship at Vivienne Westwood in London, Austrian designer Lena Hoschek opened her first store in Graz (Styria); ten years later, she celebrated the success of her label (additional stores in Vienna and Berlin; numerous collaborations with international and national brands) with a glamorous varieté/burlesque party and the presentation of the new 'Palmers by Lena Hoschek Lingerie' collection with around 700 invited guests at the circus tent of restaurant Palazzo Spiegelzelt at the Wiener Prater.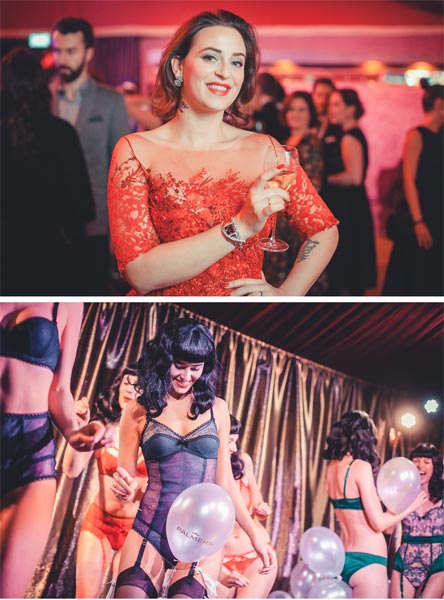 Some designers start well and loose their talents through the years working in the business and living the fashion glitz. Not so in the case of Lena Hoschek, even when there is much glitter-flitter around her like at the party yesterday (picture at the end of the page). Since the beginning, her exceptional talent for colors, their combination, forms - especially the female figure enhancing cuts, has impressed media and celebrity clients; and instead of resting on her laurels, Lena Hoschek developed her fashion collections further with a special ready-to-wear line inspired by the Austrian heritage (the Trachten collection at the line Tradition), made-to-measure bride wear and evening gowns (at Lena Hoschek's Atelier) and the RTW fashion pieces which premiere since several years during Berlin Fashion Week. Another remarkable feature concerns the seasonal themes which are derived from researches on textile, costume and fashion history such as the new Spring/Summer 2016 collection 'En Provence'. Additionally, Lena Hoschek proved the bandwidth of her creativity through the years at projects such as the costume design for the Mozart opera 'The Abduction from the Seraglio' during Salzburg Festival (2013).
The varieté/burlesque party was not only dedicated to the celebration of the work of 10 years. Yesterday's event provided an outlook into the designer's new and upcoming activities such as the collaborative 'Palmers by Lena Hoschek Lingerie' collection (snapshot of the show at the second image) and the cooperation with Jaeger LeCoultre; it's announced that Lena Hoschek will be one of the official testimonials of the Swiss luxury watch maker. For the party, Lena Hoschek wore a red couture dress, jewellery by Dorotheum and a watch by Jaeger LeCoultre (first image).
Photos 'Celebrating 10 Years Lena Hoschek': goodlifecrew.at.