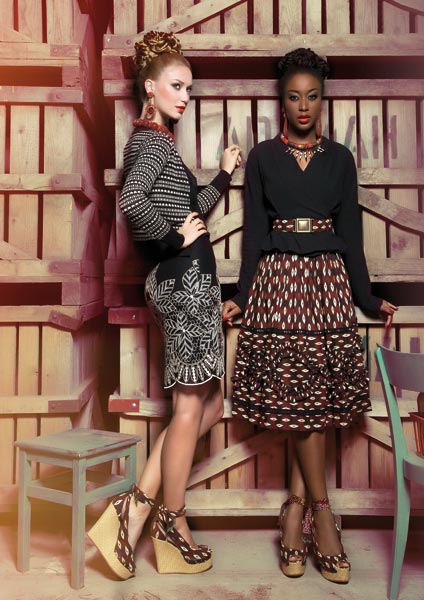 21 March 2015

Lena Hoschek took inspiration from African women
For this Spring/Summer 2015, Austrian design label Lena Hoschek presents women's wear which is inspired not only by the visual culture of Africa. The typical textile technique wax-print is used for strongly patterned fabrics, and the clothing's figure emphasizing cuts reference femininity. The collection carries the name 'Hot Mama Africa'.
Fashionoffice previewed the collection - some of the pieces are already available at the online shop such as the 'Kigali' top which is inspired by African warriors and their weapons. "However, she comes in peace..." is the idea of the top's design explained on shop.lenahoschek.com.
fig. from left: Zebra cardigan in black ecru in combination with the black Marrakesh skirt with white embroideries; Sotho jacket in black with Zimbabwe skirt (the print shows eyes). Lena Hoschek 'Hot Mama Africa' SS2015.
A large number of items aren't included into the shop yet, such as several of the bright colored pieces (many dresses, skirts, or shirts like the 'Power Flower' short sleeve shirt) and casual items in muted colors like Fashionoffice's favorite one, the Safari jacket in sand.


more collections>