30 June 2015
The online store of the fashion rental service Moiree has expanded
Recently, Vienna-based fashion rental service Moiree expanded its activities. Now, designer outfits can be rented not only by guests of selected Viennese hotels but by everyone who is based in Austria. The fine selection of products gives a glimpse of Viennese style. The dresses, hats, jewellery, bags can be bought too, such as Moiree explains at the website's FAQs. By entering the website, a chat window opens (in English language) for further questions about the rental service and shipping.
Highlights seen by Fashionoffice: Bradaric Ohmae's Vienna Clutch with wickerwork that makes think of coffee house chairs; shirt-dress by GON made from silk with cartoon/graffiti-like wild floral print; bracelet by FLorian Jewelry with playful black dices.
fig.: Campaign image for the online fashion rental service Moiree. Image right: Portrait of Moiree founder Christoph Oberlechner who has worked as marketing and sales expert for several fashion and design labels before he started the fashion rental service in October 2014. Photos: (C) 2015 MOIREE e.U., All rights reserved.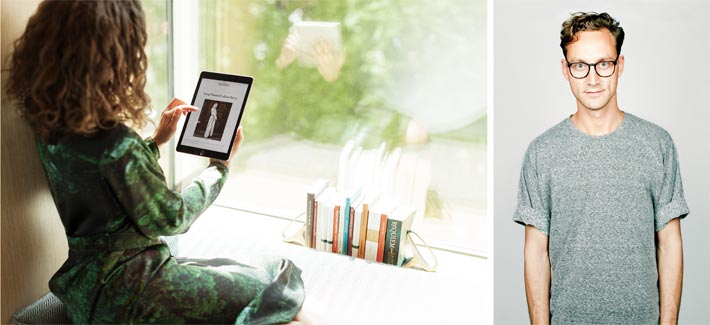 more collections>