25 April 2015
Football players' new Puma boots with dragon graphics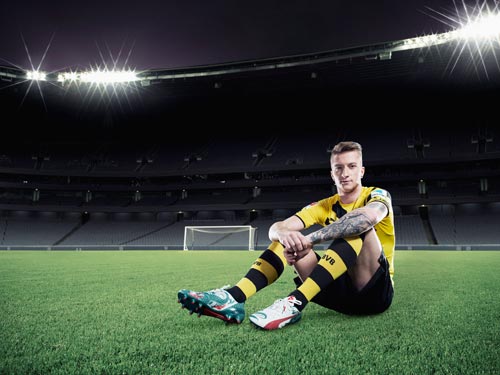 Borussia Dortmund Midfielder Marco Reus is one of the players who were outfitted by Puma with the new lightweight 'evoSPEED 1.3' which shows a Japanese dragon on a reptile skin-like surface.
Marco Reus about the shoes: "White boots are always my favourites, because they simply look slick and classy and Puma have done a great job with adding these additional graphics. I am especially a fan of this new upper material with the skin look and feel, and the green of the dragon graphics somehow reminds me of my tattoos, so I like it a lot. I am excited to wear these boots in the next round of the DFB Pokal, fingers crossed they will help me score against Bayern München." (Match on 28 April at the Allianz Arena in Munich.) The football boots' green dragon with red accents is a symbol for speed, wisdom, power and agility.
The list of Puma evoSPEED players include athletes like Radamel Falcao, Antoine Griezmann, Marco Verratti, Santi Cazorla, Sergio Agüero and Marco Reus - the two last mentioned players, Manchester City Sergio Agüero and Borussia Dortmund Marco Reus present the football boot on occasion of the launch in a video 'in action'.
fig. above, right: Marco Reus wears Puma's new evoSPEED 1.3 Dragon. Photo by Tom Oldham. Below: Close up of the Puma evoSPEED 1.3 Dragon; available in-store and on puma.com from 1 May 2015. Photo by Manuel Schlueter Photography.