21 October 2015
'Runway' store 1st anniversary meeting with Austrian designers, couturiers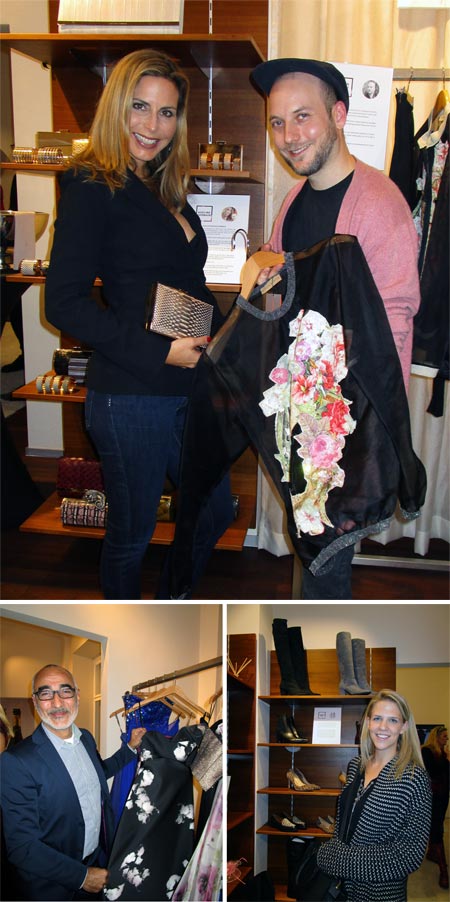 Yesterday, the Viennese store of Austrian couturier, designer pieces 'Runway' celebrated its first anniversary. The boutique is located between St. Stephen's Cathedral and St. Peter's Church at Goldschmiedgasse 10 in the Inner City. Runway is currently probably the most important Viennese store with regard to the presentation of Austrian creativity in fashion. The entrance of the shop is a small room compared to the next floor where the Runway salon hosts pieces by designers and couturiers like by bag, jewellery and accessories designer Adeline Germain (first image left) or couturier Simon Barth (standing beside her): Fashionoffice asked Simon Barth for a tip for a cocktail outfit and Adeleine Germaine added a fitting clutch to the transparent top in sports-sweater design with embroidered antique-70ies face/flower print and reflecting small mirrors.
It was an entertaining evening at Runway where 'Stella Models' agency owner Roberta Manganelli came together with two models who presented the couture dresses by Maurizio Giambra and JCHOERL. The two are on view at the image below together with the Stella Models and the owner of Runway store Alexis Fernandez Gonzalez (last mentioned in the middle). JCHOERL's items range from experimental art inspired 'Moon-Dresses' to very classical evening gowns with sparkling embroideries. Juergen Christian Hoerl works like a sculptor (the red short dress with rich draperies is his creation, worn by model Anna Wilken). Maurizio Giambra on the other hand (image right) prefers straight lines, works with folds instead of draperies, and creates elegant dresses from materials with smooth surfaces - even unconventional materials like the slightly shimmering neoprene such as on view at the image in black with white flowers.
Natalie Rox (above, last image right) started her men's and women's footwear label three years ago. Fashionoffice asked her which women's shoes are the bestsellers this season: she pointed to the flats Gepard and the high-heel pumps Jaguar.