Schöffel Spring/Summer 2015, 17 February 2015
Spring/Summer fashion for mountain sports holidays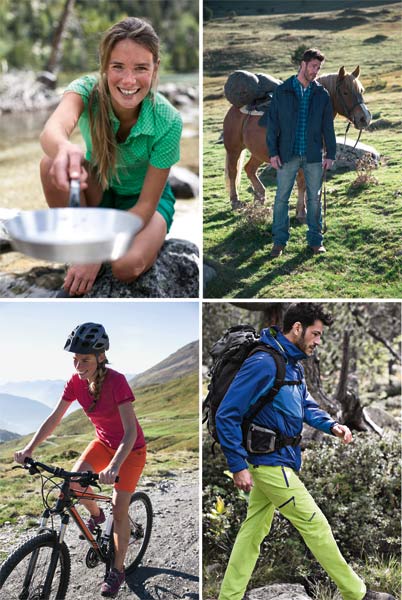 Schöffel is probably in the mind of ski sports fans from the jackets that are worn by the athletes when they are giving their interviews. The German label is the official outfitter of the Austrian Ski Team. Today in Vienna, the brand invited to the presentation of the bright colored (greens, fuchsia-strawberry tones, orange, lime, blues) women's and men's wear Spring/Summer 2015 collection which is designed for hiking, walking, trekking in the mountains but can be used in an urban environment as well; especially some of the waterproof jackets are practicable and chic for rainy days in the city. The items are mainly made of elastic and fast drying fabrics.
The media material and new catalogue for the very light clothing pieces give an impression of today's idea of mountain holidays which include sport activities and enough time to relax. It's like a booklet about a two-day adventure with one night camping in a tent. The featured activities reach from riding, biking, walking in and alongside rivers, paddling, over climbing to a comfortable campfire dinner. Not all of the pieces on the pictures right are from the collection, such as the jeans (image above right with horse). The jeans are combined with Schöffel's wind- and waterproof blue jacket 'Downey' which is suitable for urban walks as well. The green polo-shirt 'Jessica' left beside for example is made of a material that protects the skin from UV-light. The main colors for women are definitely berry tones; on view at the bike riding photo of the shirt 'Honey' which is styled with short stretch-trousers 'Hope' in orange. The last image shows the two main colors for men: blue (jacket 'Sterling') and lime (dirt repellent elastic 'Hike Pants II'). The catalogue can be viewed online. (Not all of the pictures on this page are published there.)
On 12 March 2015, Schöffel will open in Innsbruck (Tyrol) the label's first Austrian flagship store.