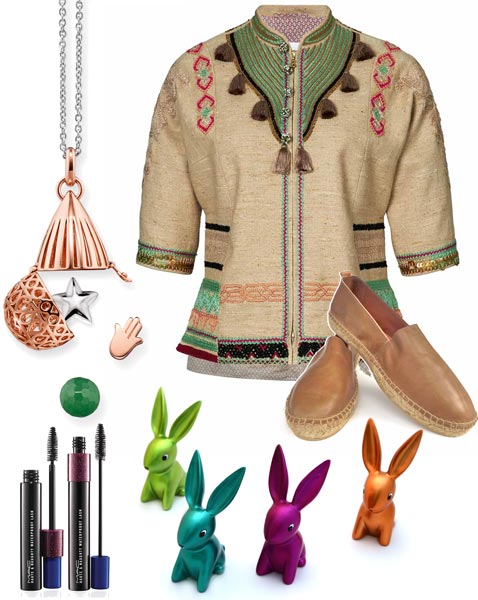 26 February 2015
Fashionoffice spring beach selection in Moroccan style
Morocco, North Africa is one of the favorite style-choices for the early spring holidays! Yesterday, Fashionoffice published an article with some pieces for the upcoming warmer days with sun shine and walks at the shore of the sea or lake in mind. Today, these thoughts are continued and carried by a fresh breeze which is spiced with the salty air of Morocco.
fig.: The jewellery 'My Soul' is from the 'Secretkeeper'-series by the newly founded Austrian label Myns. Myns started in 2014 and belongs to Xenox which is headquartered in Linz in Oberösterreich. Designer Alexander Stütz created for Myns so called 'symbol jewellery'; the main jewellery is a sort of vessel where symbols can be stored. The design of the vessel makes think of jalousie or louvre windows that prevent that curious people can watch the private life of others. The symbols inside this secretkeeper stand for the things people selected for becoming real in their future or signs which shall strengthen them. It's a sort of magic charm Voodoo box, a Mojo. The rosé gold 'My Soul' secretkeeper on this page is filled with a silver star (stands for the power for growing beyond oneself), a green aventurine (a stress reliever and chill-out booster), and a hand which is named 'Fatima' and protects from evil. Currently, more than 20 different stones and figures can be found on Myns' product page.
The jacket by Sonia Bogner (SS2015) with short sleeves and typical Moroccan details like tassels is inspired by the North African traditional caftan. Photo: Sonia Bogner.
The espadrilles in natural beige have cushioned soles and leather lining; they are from Jana Keller's Royal Blush collection 'Desert Bloom' SS2015.
The 'Haute & Naughty' mascara will be released by MAC Cosmetics now even in Austria in waterproof version; The 'M·A·C Haute & Naughty Waterproof Lash' will be available in Austria from March 2015.
And for decoration only: the Easter rabbits presented by the Viennese interior house Steinwender. They are not filled with chocolate!


more collections>