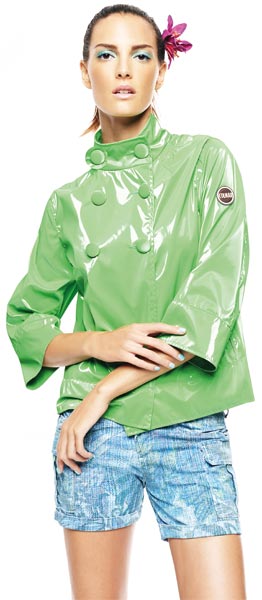 Styling for rainy days in spring, 28 January 2015
Outdoor style for sunny rainy days in spring
It isn't a secret that the functionality of sports wear becomes more and more part of daily urban 'couture'. Recently, US designer Phillip Lim presented in Paris the new FW2015/16 men's wear with references to the functionality of mountaineers' clothes (interview). The trend is influenced by two facts: the wearer who uses urban mobility increasingly as sports activity (cycling, walking), and secondly by the fact that high-tech fabrics and manufacturing methods aren't only following the reason of functionality but fulfill the requirements of interesting textile surfaces and clothing technology for fashion products. Sometimes, nowadays fashion items appear almost like experimental creations from a couture studio such as the rain jacket in 1960s plastic style by the Italian label Colmar. The jacket is made of a water-resistant nylon fabric and make think of mid-60s couture by Courrèges. Colmar combines the rain jacket with short trousers in sky and watery blues. Fashionoffice collected some additional pieces for an urban couture-inspired outfit on sunny rainy days in upcoming spring (pictures below).
fig. from above: Rain jacket in green water-resistant nylon by Colmar Originals, Spring 2015.
'Love' ring in white gold with diamonds presented as Valentine's Day tip by Vienna-based jeweler Oliver Heemeyer.

For the fresh glow on the face: light reflecting compact powder with corrective shades from the new Météorites Spring 2015 collection 'Les Tendres' by Guerlain.
Mascara 'Modern Twist Lash' in colors like vinyl black and chlorafill lime by MAC Cosmetics in packaging which was designed by Isabel and Ruben Toledo. (In limited edition in Austrian stores and online at maccosmetics.at from March for eight weeks,)
Sennheiser's new earphones PMX 686G from the 'Sports'-series premiered in early January in Las Vegas and will be available from February or April in Austria (depends on the smartphone system). They are designed for outdoor sports with in-ear design to hear for example the traffic around while listening music; the earphones are sweat and water-resistant.
Photos: (C) The mentioned brands.