Sport Style Spring 2015, 13 January 2015
One trick of healthy fitness: don't overexert yourself
There are several training methods which can be practiced every day in urban environments such as cycling, running, walking or swimming - some can be integrated into daily life like using the bike to reach the workplace or walk to the meeting instead of taking a vehicle. But the methods can also be exercised in sports mode; Fashionoffice collected a swimsuit by Aqua Sphere, new running shoes by adidas and the upcoming electric bike by Piaggio - last mentioned, only to prevent that cycling back home burns out the last energies because this would be counterproductive for a healthy fitness result. The bike can also be configured via smartphone for fitness goals.

Closer information about the items below.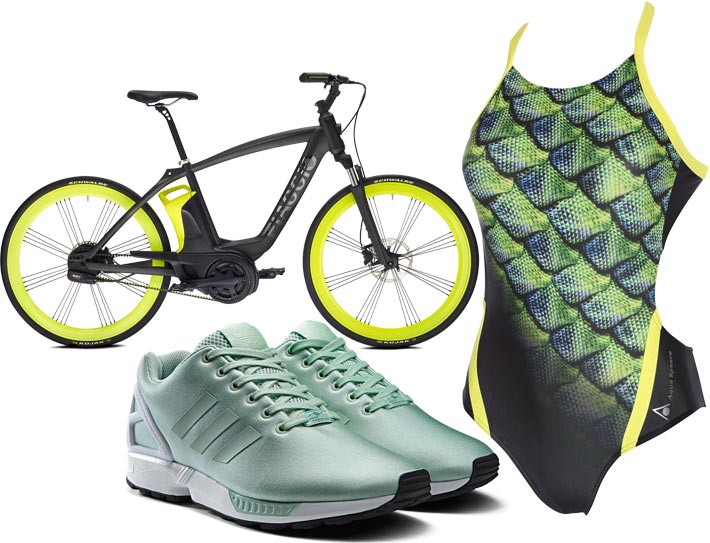 fig.: Electric Bike (interactive with the bike, the environment and cyclist via bluetooth/smartphone) by Piaggio. The individually configurable bike (checking charge status, mechanics, navigation and location features, choosing workout, fitness goals video) premiered at EICMA in early November in Milan. It's announced that the interactive bike with electric motor (between 60 and 120 kilometres) comes into stores this summer 2015 (in Austria). Photo: (C) Faber GmbH/www.piaggio.at.
The 'Casbah' swimsuit by Aqua Sphere is from the current 'Active Swim' collection and shows a mermaid pattern. Tip: train swimming with a professional for stronger muscles for the posture against back pain and for the reduction of cellulite. It's not important to swim fast; some sources proclaim that slow swimming brings the best results.
The running shoes in mint are from the new adidas Originals 'ZX Flux Neoprene' collection. They also look fine in combination with jeans or a skirt for urban walks.