24 September 2015

Meeting with model/blogger Tatjana Catic at the presentation of her Bik Bok capsule collection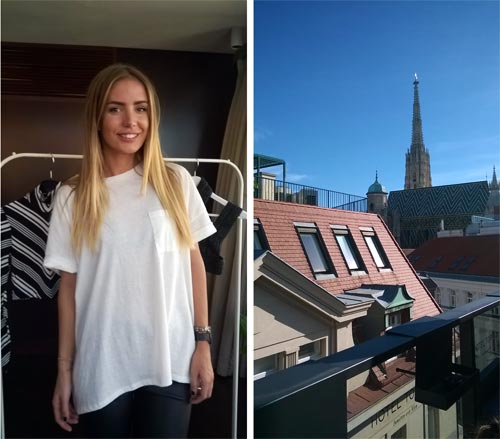 Recently, the Scandinavian fashion label Bik Bok invited to a come-together with the co-creator of the upcoming special 15-piece collection 'Bik Bok by Tatjana Catic' to the penthouse of Hotel Topazz in Vienna.
Tatjana Catic was born in Upper Austria, is model, traveler and has several online channels where she posts written, filmed and photographed diary entries (keyword: blogger) for her followers. Her lifestyle is the inspiring source for the collection which was created in collaboration with the design team of Bik Bok.
fig.: The leather-like pants with zippers (image below, right), the black-white striped knit wear items (picture above, left behind Tatjana on the rack) or a rosé colored narrow skirt with turtle neck pullover (image below, left) are the realizations of Tatjana Catic's currently most beloved edgy fashion. The designs are strongly influenced by international street styles. What Tatjana Catic expresses is an easy lifestyle - and that's even the best description for the casual looks of the capsule collection: easy living!
Photos above: Snapshot of Tatjana Catic at the press come-together on 22 September 2015 at Hotel Topazz in Vienna. View from the penthouse over the roofs at Stephansdom (St. Stephen's Cathedral).

Photos below: Campaign for the capsule collection 'Bik Bok by Tatjana Catic'; in Bik Bok stores and online from November. (C) Sarah Katharina Photography.