13 July 2015
Tour fashion in Fall/Winter 2015/16
...selected for the upcoming September, October, November city and mountain travels from Vivienne Westwood's Fall/Winter accessories and inspired by Viennese writing culture store 'Miller''s current collection of utensils which are dedicated to 'spiritual tours'.

Tip by Fashionoffice: combine the selected Vivienne Westwood AW 2015/16 pieces with slim fitting denim jeans and knit pullover for a comfortable look!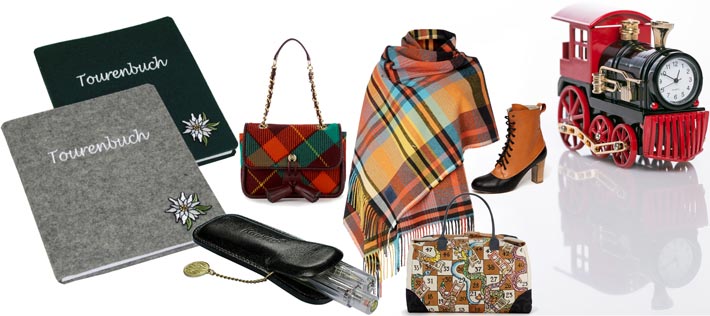 Miller Schreibkultur's tip is to write down even volatile travel impressions and give the creativity the chance to start the first novel. Georg Mosler, owner of Miller references in a statement about the collection literature treasures such as Jules Verne's 'In 80 days around the world', Daniel Dafoe's 'Robinson Crusoe', or Jack Kerouac's 'On The Road' which would never had been written without appropriate writing material by hand.
fig. from left: 'Tourenbuch' in green or grey felt cover with mountain flower edelweiss (13,5 x 16,5 cm, 96 pages) by Goldbuch and 'Classic' writing set with pouch by Kaweco, seen at Miller Schreibkultur in Vienna.

Pieces from the Accessoires AW 15/16 collection by Vivienne Westwood: Bag made of woven tartan with calf leather trim in green; checked scarf; calf leather retro-boots in brown-black; bag made of beige canvas with snakes, ladders print with the designer's logo on a play ground which appears like a combination of chess and jumanji.

The train desktop watch by chic.mic is for at home to remind where the story has started; seen at Miller. Not on view on this page is another nice piece from the current Miller collection; the gravity wonder Fisher Space Pen (on Miller's Facebook) from 1965 which was developed for astronauts and enables to write in every position.
Copyrights of the images: the mentioned labels.


more collections>