10 July 2015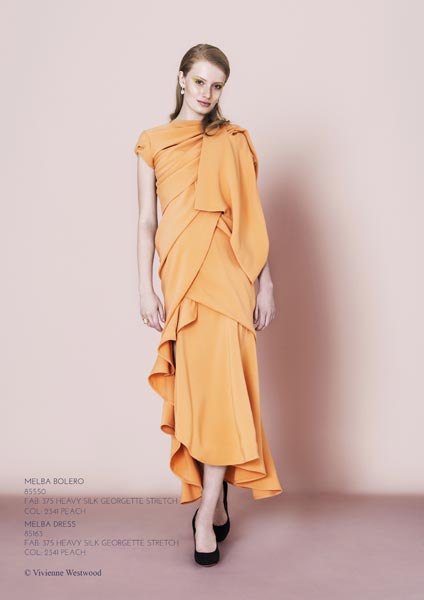 Outfit tips by Vivienne Westwood Vienna for Salzburg Festival
On occasion of the upcoming Salzburg Festival (18 July - 30 August), Vivienne Westwood store Vienna sent some outfit tips from the British design label's Haute Couture Spring/Summer 15 Capsule Collection which is inspired by 19th century designer and founder of Haute Couture Charles Frederick Worth who was known for draping artfully fabrics around the female body and enhancing femininty.
Fashionoffice selected the peach dress with bolero which is in the combination practical even for fresh summer nights and has an appropriate avantgardistic-elegant, timeless style for events of the festival such as the new interpretation of Bertolt Brecht's 'Threepenny Opera' originally with Kurt Weill's jazz and 1920ies dance music (tango) inspired music; the critical analysis of society where the social classes and their behaviour appear in a role playing game (honorable citizens behave like criminals) starring murderers, thieves, whores and beggars premiered on 31 August 1928 in Berlin and became one of the most successful stage productions in the 1930ies. (Salzburg Festival blog entry with citations of Bertolt Brecht about his view on the success and the people's reception of his work.)
Now on 11 August 2015 at the Felsenreitschule at Salzburg Festival, the new version 'Mack The Knife - A Salzburg Threepenny Opera' under the direction of Julian Crouch and Sven-Eric Bechtolf will premiere with the same text but with some adaptions such as the musical score; especially mentioned are the original dance band inspired melodies of the 1920ies which will be transported by Grammy Award winner Martin Lowe into the sound world of the 2010ies.
It's announced that after the premiere on 11 August, seven further performances will take place until 27 August in Salzburg.

fig.: 'Melba' bolero and dress (heavy silk georgette stretch in peach), Vivienne Westwood Spring/Summer 2015 Capsule Collection. Photo provided by Vivienne Westwood Vienna: (C) Vivienne Westwood.


more collections>