15 September 2015
The fashion, leather, jewellery, silver pieces of the Wien Products Collection 2015 were created from reflections about today's living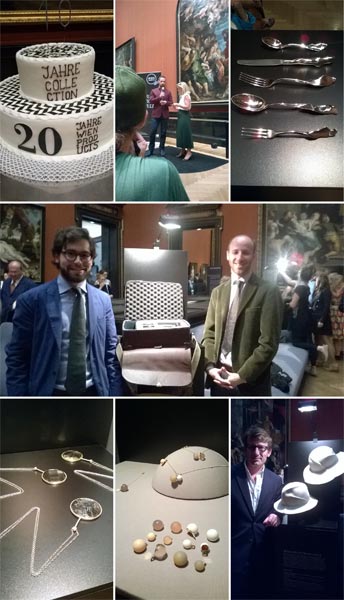 Yesterday, Wien Products celebrated with a white/black cake in Jugendstil design (first image right) its 20th anniversary at the KHM - Kunsthistorisches Museum in Vienna. In 1995, 'Wien Products' was founded as collaborative initiative by Vienna-based companies for joint activities such as attending together fairs and special events in- and outside of Austria. On the Wien Products website, the annual Wien Products Collections are published. Yesterday at KHM, the latest Wien Products Collection 2015 premiered with introductions by the designers and company owners into each of the lines such as on view at the second picture, designer Sebastian Menschhorn with presenter and organizer of the event Ana Berlin. Menschhorn developed the design of the silverware manufactured by Jarosinski & Vaugoin from the idea of the easiness of being and translated it into a haptic play with forms and functions (silverware at the third image at the first row).
Image in the middle, from left: Patrick Wollner's world is very diversified (scientist, journalist, designer) but is centered by one motivation: making people's life easier. The leather photobag for R. Horn's Wien (on the picture right) is created for urban photographers and combines the traditional appeal of functional leather cases for the storage of camera and lenses with a computer bag (last mentioned in a hidden pocket; Fashionoffice had to look twice). Closer view and description on Patrick Wollner's website.
The next images concern jewellery and hats; from left:
The 'CrystalJelly' pendants by designer Talia Radford for J. & L. Lobmeyr are made from Lobmeyr crystal glass and can be used as smartphone lenses. Talia Radford's 'taliaYstudio' elaborates social designs on the interface of new technologies and people's interactions.
The jewellery pieces in the middle are products by A. E. Köchert in the design by Dottings and follow the idea of charms bracelets which can be enriched whenever and as much as the wearer likes. The idea behind is to start with high-quality jewellery for an affordable price and vary the necklace with more or less charms.
The last image on this page shows Klaus Mühlbauer, in the fourth generation owner of Mühlbauer Hutmanufaktur, standing beside two hats which were designed by design studio Lucy.D. The felted hats are made from very soft hare hair, formed on classical hat models and decorated with single folds. The creation is inspired by 3D-modelling and the idea of dynamically sketching the form of the head with folds. In an interview statement, the duo of Lucy.D explain their approach to the design of everyday objects: "We question traditions and the constantly changing human needs." (Free transl. from German: Wir hinterfragen Traditionen und die sich stets erneuernden menschlichen Bedürfnisse.) In the case of the hats, Lucy.D seem to fulfill the needs of the ones who prefer classical fashion with a touch of unpredictability.


more collections>