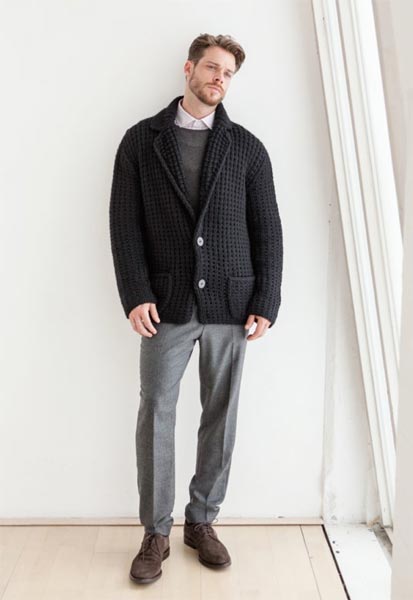 28 October 2015

Men's wear: DIY knit jacket
...made from baby alpaca/merino wool yarn seen on woolmarket.at at the new Filati brochure by wool label Lana Grossa. The new special edition is dedicated to DIY men's wear for knitters and contains mainly pullovers and jackets.
The brochure presents at the first pages selected models of the season; in the appendix, the How-to-Do the men's wear models such as the jacket are described closer with information about the used yarns. In the case of the black jacket on this page, the Lana Grossa designers used 'Alta Moda Superbaby Uni' which is available in a wide range of colors such as in the fresh blue note 'jeans' or in warm coffee brown 'mokka'. The knit pattern looks like the surface of a waffle. At the brochure's DIY instructions, Lana Grossa recommends also the sizes of the needles for the jacket - they foresee three different needles!
The price of the high-quality wool yarn for the jacket makes 117.- Euros.
Photo provided by woolmarket.at; (C) Lana Grossa.


more collections>