9 February 2016

Fashionoffice selection Spring Style 2016: capri-blue to bubblegum-pink
The selection of items on this page is inspired by the Pantone Color(s) 2016 (blue and rose reference gender equality, fluidity) and sunny days. The fashion, beauty pieces are from the new or upcoming collections; find the descriptions below.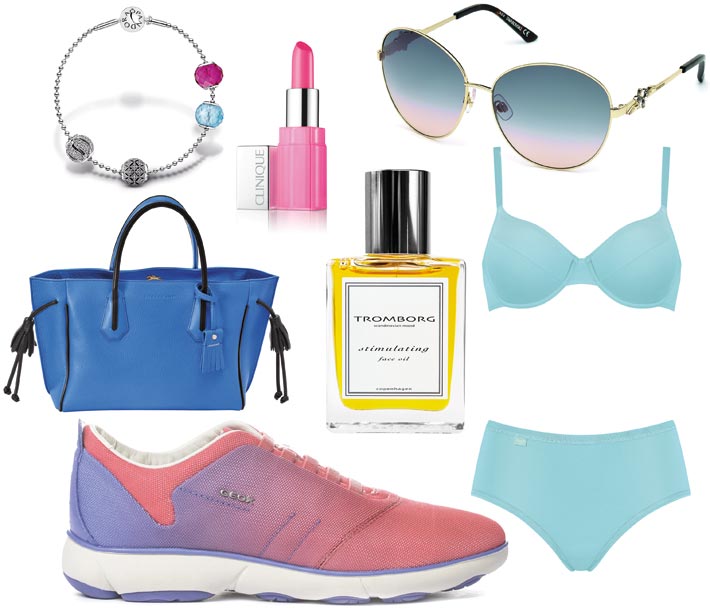 fig. from left, clockwise: The bracelet is from the 'Essence' collection by Pandora (available from 17 March in stores and online). With the charms of the Essence collection, the wearer can personalize the jewelry by choosing values which are individually important like the pink one for 'Joy' or the blue for 'Friendship'.
The bubblegum-pink 'Pop Glaze' lipstick from the 'Pop Artistry' collection by Clinique (available since this month) plays an essential role in the interactive music video 'Lush Life' with Zara Larsson.
70ies inspired 'Essence (SK0092)' sunglasses with blue-pink tinted glasses by Swarovski.
Capri-blue wired bra and panty 'EverNew' from the 'Natural' collection (cotton, elastane) by sloggi.
'Face Oil Stimulating' by Tromborg with grapefruit, vanilla, rosemary, lemon grass and lemon balm. The scent lets the sun shine! The face oil revitalizes and treats the skin gently. (Tested by Fashionoffice.)
Sneakers in blue-fuchsia from the 'Nebula' collection by Geox. (Article about the launch with bloggers.)
Tote bag 'Penelope Fantaisie' in indigo-blue by Longchamp; Spring/Summer 2016. (Photo: Christophe Petiteau)


more collections>