5 October 2016

Gigi Hadid stands in Reebok #PerfectNever movement campaign for combating negativity
Reebok's #PerfectNever movement campaign presents strong women who are fighting for the own image they have from themselves. It's not that they aren't looking good or that a broken self-image would motivate the campaign. The message of Reebok #PerfectNever is about the option to improve oneself. This year in July, the campaign started with athlete Ronda Rousey (video).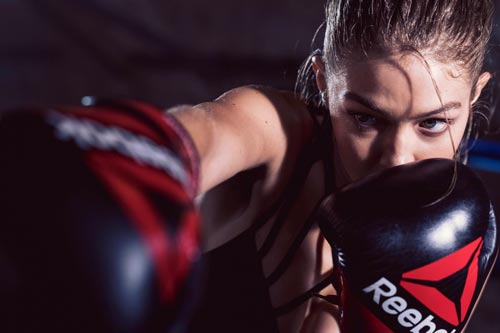 Now, it's continued with model Gigi Hadid who stands for beauty, fashion, fitness and the fight against negativity. At first it seems not obvious why such a successful and beautiful woman climbs into the ring for a campaign which is entitled PerfectNever. In the case of Gigi Hadid, the self-betterment concerns her mental abilities to fight against the pressure she has as person of public interest as well as international model in the fashion world. "Working out isn't only physical for me. It's mental. It helps me escape the noise in my head. It's the only time my mind goes quiet." shares Hadid her approach to fitness. As Reebok states in the press release with reference to the label's mission symbolized by the brand's delta sign (on view at the boxing gloves, image above), Gigi Hadid "...and Reebok will challenge women to use physical fitness as an escape to drown out all of the negativity that surrounds them by deploying the three-point principles of the Reebok delta that puts forth the social, physical and mental benefits of fitness."
fig.: Gigi Hadid in boxing pose for the Reebok campaign #PerfectNever. At the gloves, the delta sign of Reebok is visible. Photo: (C) Catherine Wessel. The campaign is accompanied by a video and interview with Gigi Hadid.


more collections>