19 March 2016

Julia Restoin Roitfeld's favourite items of the H&M Conscious Exclusive collection
H&M takes its 'Conscious Exclusive' activities to the next - an 'art x new textile technology' - level; this time, the fashion brand's design strategy combines the idea of the long-lastingness of high-quality fashion creations (like haute couture) and sustainable material developed from new recycling methods.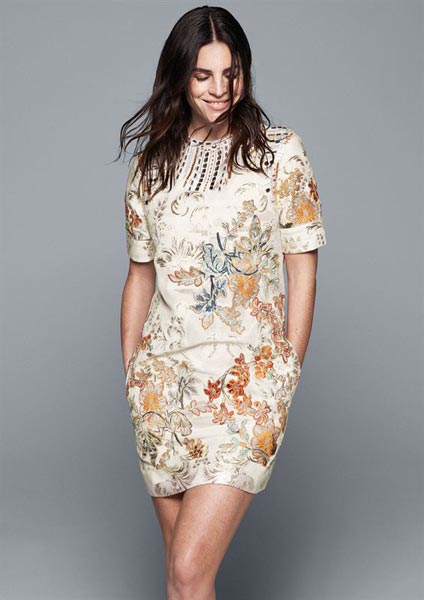 The Asian culture referencing dress (image) from the new 'H&M Conscious Exclusive' collection is mentioned by Julia Restoin Roitfeld as one of the items which impressed her the most.
fig.: Julia Restoin Roitfeld in Chinese, geisha-like dress which is embellished with beads from recycled material. The H&M Conscious Exclusive Spring/Summer 2016 collection is available from 7 April 2016 worldwide (stores and online).
The single mother, model and publisher of Romy and the Bunnies - a magazine about the lifestyle of mothers and their kids, Julia Restoin Roitfeld is the ambassador of the 'H&M Conscious Exclusive 2016' collection with focus on sustainability; H&M is the first fashion company which uses the new material 'Denimite' recycled from worn-out denim. (More about H&M and Denimite on just-style.com.)
The collection (apparel incl. three wedding dresses, accessories, bijoux with rhinestones made from recycled glass) will be launched in time with the opening of the Musée des Arts Décoratifs' exhibition 'Fashion Forward - 300 years of Fashion' on 7 April. The key pieces of 300 years inspired the H&M design team for items such as Julia Restoin Roitfeld's favourite piece (on view at the video below):
"One of my favourite pieces from the collection is the mini asymmetric dress that was inspired by a painting by Gustave Moreau. I love the mix of a conscious, sustainable fabric and an old painting. It's great to be able to have sustainable clothes that still look red carpet-ready," says Julia Restoin Roitfeld, the face of the campaign.
Video: Behind the scenes with Julia Restoin Roitfeld at the shooting of the campaign for 'H&M Conscious Exclusive 2016'.