17 March 2016

"Siris was my choice for the test of shoes by Legero"
Vienna Insight by Fashionoffice's Karin Sawetz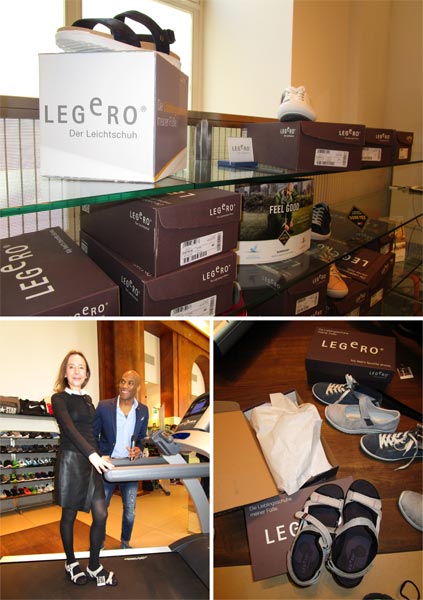 Siris wasn't the star among the shoes which were presented by Legero for the shoe test today; but the trekking sandal was my choice for the test. The hybrid city runner Marina, the puristic sandal Savona and the urban-chic models of the label's bestselling Tanaro line were requested mainly by the journalists who were invited by the Austrian label Legero to the treadmill-catwalk-test at Humanic shoe store at Mariahilfer Strasse nearby Museumsquartier in Vienna.
Dancer, choreographer and fitness-trainer Alamande Belfor was the 'way-of-walking'-supervisor and introduced into the healthy aspects of lightweight footwear with well cushioned soles and the positive effects on a person's self-conscious appearance when shoes fit. After Siris - the trekking sandal which was my choice, the Marina models have an equivalent soft sole (foamed polyurethane). The various Marina designs are developed from the idea of an 'urban casual runner' which unifies sports shoe functions with the appeal of casual footwear for everyday wear like combinations with formal costumes or pant suits.
Siris is a lightweight trekking sandal which should be worn without socks or tights and looks much better in combination with short jeans than with a leather skirt and black tights - such as I was dressed in today. Siris' foamed polyurethane sole cushions the footsteps well and the anatomical formed inner sole supports the foot during rolling off. The functional sole can be fixed with three adjustable straps on the foot. My result of the Legero shoe test: literally 'easygoing'.


more collections>